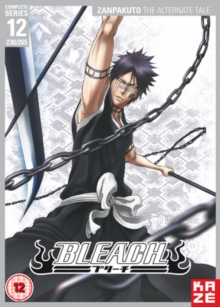 Bleach: Complete Series 12
DVD
Description
The complete 12th series of the Japanese anime, comprising episodes 230-265.
A strange figure has appeared in Soul Society and his coming is accompanied by a sudden rebellion by the very zanpakuto spirits that fight alongside the shinigami.
Even more alarming, the shinigami are seemingly betrayed and abandoned by one of their own: none other than Byakuya Kuchiki (voice of Ryotaro Okiayu).
The episodes are: 'A New Enemy! The Materialisation of Zanpakuto', 'Byakuya, Disappearing With the Cherry Blossoms', 'Sode No Shirayuki Vs Rukia!
Delusion of the Heart', 'Zangetsu Becomes an Enemy', 'Renji Surprised?!
The Two Zabimaru', 'Clash! Hisagi Vs Kazeshini', 'Release! The New Getsuga Tensho', 'Sui-Feng, Surround the Zanpakuto', 'Friendship?
Hatred? Haineko & Tobiume', 'The Awakening Hyorinmaru! Hitsugaya's Fierce Fight', 'Byakuya's Betrayal', 'For the Sake of Pride!
Byakuya Vs Renji', 'Shinigami and Zanpakuto, Total Sortie', 'One-On-One!
Ichigo Vs Senbonzakura', 'The Long Awaited... Kenpachi Appears!', 'Pursue Byakuya! The Confused Gotei Divisions', 'Special Mission! Rescue Captain-Commander Yamamoto!', 'Deceived Shinigami!
The World Collapse Crisis', 'Dragon of Ice and Dragon of Flame!
The Strongest Showdown!', 'Senbonzakura's Bankai! Offense and Defense of the Living World', 'That Man, for the Sake of the Kuchiki', 'Dark History!
The Worst Shinigami Is Born', 'Byakuya, the Truth Behind His Betrayal', 'Muramasa's True Identity Revealed', 'Byakuya and Renji, the 6th Division Returns', 'Final Chapter - Zanpakuto Unknown Tales', 'Byakuya's Anger, Collapse of the Kuchiki Family', 'A New Enemy!
The True Nature of the Beast Swords', 'Stray Snake, Tortured Monkey', 'Terror!
The Monster That Lurks Underground', 'Conclusion?! Hisagi Vs Kazeshini', 'The Person With the Unknown Ability! Orihime Is Targeted', 'The Tragic Sword Fiend! Haineko Cries!', 'Imprisonment?! Senbonzakura & Zabimaru', 'Battle of the Females? Katen Kyokotsu Vs Nanao!' and 'Evolution?! The Menace of the Final Sword Fiend'.
Information
Format: DVD
Region: 2
Certification: (12)
EAN: 3700091028002
Catalogue number: KDVD2800
Studio: Manga Entertainment
Release date: 07/07/2014
Genre: Unclassified
Colour: Colour
Free Home Delivery
on all orders
Pick up orders
from local bookshops
Also directed by Noriyuki Abe | View all