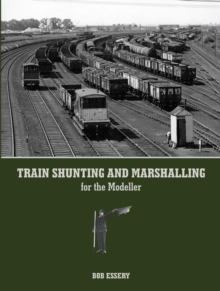 Train Shunting and Marshalling for the Modeller
Paperback / softback
Description
With his early career as a footplate man, Bob Essery brings his own personal experience to judge how effectively most model railway layouts are operated and provides readers with this in depth and instructive volume on Train Shunting and Marshalling.
As a firm believer in 'realism in miniature' he knows that over the past 20 years there has been a phenomenal increase in the physical standards of layouts built and exhibited; the quality of proprietary locomotives and rolling stock has improved immeasurably as have the signalling and scenery.
What is still lacking, however, is the knowledge as to how the railways actually operated and, in an era when DCC makes the realistic operation of model railways all the more practical (along with the hazards associated with the industry), this leads to all sorts of schoolboy howlers perpetrated upon the viewing public at model railway shows.
Since the publication of 'Railway Operation for the Modeller' in 2003, there has been a growing awareness of the importance of replicating correct operating procedure and this volume is the fourth volume designed to build upon the success of that original book. Many model railways, unless recreating an exact replica, often add more complexity to the scene - in terms of over-large locomotive sheds and goods yards - in order to give variety of operation and this volume is designed to provide the modeller with a comprehensive guide to working practices when shunting and marshalling passenger or freight trains and the handling of locomotive sheds.
The book will include descriptive text allied 200 mono and colour illustrations.
Individual chapters will include the evolution of shunting, the men and equipment, marshalling passenger trains, types of locomotive used arrangements of locomotive shed and shed operation.
This title has great appeal to both modellers and railway enthusiasts.
Information
Format: Paperback / softback
Pages: 96 pages, ill
Publisher: Crecy Publishing
Publication Date: 20/10/2011
Category: Model railways
ISBN: 9780711036321