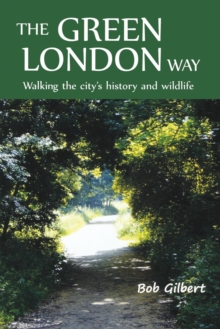 The Green London Way : Walking the City's History and Wildlife
Paperback / softback
Description
The Green London Way is an alternative approach to the exploration of London.
The book describes a hundred mile walk circling the capital, but, uniquely, also offers insightful histories of London's people and a commentary on its abundant local wildlife.
The walk, divided into manageable sections, each with maps by Graham Scrivener (the 'urban Wainwright'), traverses London's tow paths, woodlands and commons, examining links between local human history and the landscape on which it is founded.
This updated version of the text also incorporates discussion of the rapid developments in London in the past twenty years, analysing the features which have recently changed the face of the city.
Bob Gilbert provides a wealth of information about the plant and animal life of London, including some surprising instances of rare species.
In terms of wildlife, landscape and history, The Green London Way is full of discoveries for any walker or reader, and provides a new awareness of Greater London.
Information
Format: Paperback / softback
Pages: 217 pages, maps
Publisher: Lawrence and Wishart Ltd
Publication Date: 29/03/2012
Category: Local history
ISBN: 9781907103452
Also by Bob Gilbert