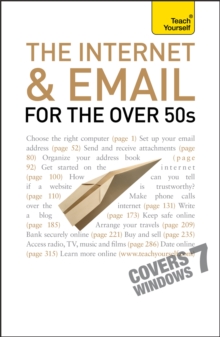 The Internet and Email for the Over 50s: Teach Yourself
Paperback
Description
Is this the right book for me?Do you feel that you have been left behind in the technological revolution?
Are you looking for sound, practical advice on getting the most out of email and the Internet?
If so, The Internet and email for the Over 50s is exactly what you need!
Focusing on a wide range of internet and email uses that are of particular relevance and interest to older computer users and the technologically terrified, including travel, shopping and much more, this book even covers online dating!The author approaches the subject in a highly accessible way, covering emailing, making calls over the Internet, shopping online, banking, setting up a blog and searching online.
Starting from first basics, it begins with how to choose the right computer, software and peripherals.
Made up of of self-contained chapters with the emphasis on what the computer is being used for, rather than scary technical stuff about the software needed, this book covers key areas of interest including: getting started with email, sending and receiving emails and attachments; making phone calls over the internet (VOIP etc), 'chatting' online; reading and writing blogs; keeping your personal information safe online and keeping your computer safe from viruses; finding what you need on the internet, shopping, banking and online auctions.
Filled with clear instructions and supported with screenshots, tips, hints and a full 'jargon-busting' glossary, it assumes no prior knowledge of using the internet and email, guiding you with practical good humour to success.The Internet and Email for the Over 50s includes: Chapter 1: Choosing a computerChapter 2: Other equipment you might needChapter 3: Programs (software) you might needChapter 4: Getting started on your computerChapter 5: Setting up your email addressChapter 6: Sending and receiving emailsChapter 7: Sending and receiving email attachmentsChapter 8: Organizing email messages and contactsChapter 9: Getting started on the InternetChapter 10: Keeping organized when using the WebChapter 11: Making phone calls over the internetChapter 12: Chatting over the internetChapter 13: Getting involved with online communities Chapter 14: Reading and writing blogsChapter 15: Keeping your personal information safe onlineChapter 16: Keeping your computer safe from online threatsChapter 17: Arranging and booking your travelsChapter 18: Banking online and other financial servicesChapter 19: Buying from an online auctionChapter 20: Selling at an online auctionChapter 21: Doing your grocery shoppingChapter 22: Working and learningChapter 23: Accessing TV, radio and gamesChapter 24: Accessing music and filmsChapter 25: Dating onlineChapter 26: Websites for the over 50s Learn effortlessly with a new easy-to-read page design and interactive features: Not got much time?One, five and ten-minute introductions to key principles to get you started.Author insightsLots of instant help with common problems and quick tips for success, based on the author's many years of experience.Test yourselfTests in the book and online to keep track of your progress.Extend your knowledgeExtra online articles to give you a richer understanding of the subject.Five things to rememberQuick refreshers to help you remember the key facts.Try thisInnovative exercises illustrate what you've learnt and how to use it.
Information
Format: Paperback
Pages: 384 pages, Approx 400 screenshots and photos.
Publisher: Hodder & Stoughton General Division
Publication Date: 01/03/2010
Category: Internet guides & online services
ISBN: 9781444100839
Free Home Delivery
on all orders
Pick up orders
from local bookshops
Also in the TY Computing series