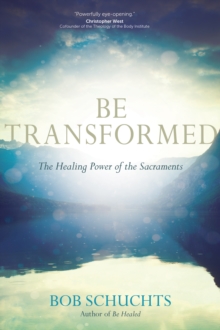 Be Transformed : The Healing Power of the Sacraments
Paperback / softback
Description
Based on more than thirty-five years of experience as a therapist and decades spent leading retreats, Bob Schuchts shows how the seven sacraments can transform your perspectives and well-being in ways you've never imagined.
You'll discover that each sacrament can help you heal from wounds that can impede your relationships and sense of selfworth.
With Schuchts's gentle help, you'll learn how:* Baptism can heal feelings of rejection. * Confirmation gives courage in the face of powerlessness. * Holy Eucharist reminds you that you are never abandoned. * Reconciliation releases you from the clutches of shame. * Holy Orders restores faith in God's providence. * Marriage can heal wounds of mistrust. * Anointing of the Sick cures hopelessness. Be Transformed offers all of the tools you need to understand, undergo, and implement a fresh understanding of the sacraments, including reflection questions, scripture meditations, prayers, and inspiring stories.
You'll come away hungry for the sacraments in a way you never knew possible.
Free Home Delivery
on all orders
Pick up orders
from local bookshops