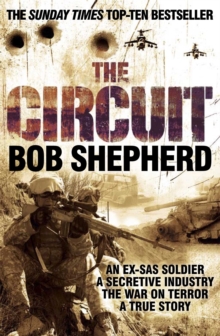 The Circuit : An Ex-SAS Soldier / A Secretive Industry / The War on Terror / A True Story
Paperback
Description
After nearly 20 years of SAS operations, including a never before published role in the infamous Bravo Two Zero patrol, Bob retired from the military to work as an advisor on the international commercial security circuit.
Certain his most dangerous days were behind him, Bob settled into a sedate life looking after VIPs.
Then 9/11 happened. Bob found himself back in war zones on assignments far more perilous than anything he had encountered in the SAS: from ferrying journalists across firing lines in The West Bank and Gaza to travelling to the heart of Osama bin Laden's Afghan lair.
As part of a two-man team, Bob searched for ITN Correspondent Terry Lloyd's missing crew in Basra, Iraq, while in Afghanistan he was forced to spend the night as the only Westerner in Khost -- with a $25,000 bounty on his head.
As the War on Terror escalated, Bob contended with increasingly sophisticated insurgents.
But the most disturbing development he witnessed was much closer to home: The Circuit's rise from a niche business staffed by top veterans into an unregulated, billion dollar industry that too often places profits above lives. This is a pulse-racing and at times shocking testament to what is really happening, on the ground, in the major trouble spots of the world.
Information
Format: Paperback
Pages: 352 pages, col. Illustrations
Publisher: Pan Macmillan
Publication Date: 01/03/2009
Category: True war & combat stories
ISBN: 9780330471923
Free Home Delivery
on all orders
Pick up orders
from local bookshops
Reviews
Showing 1 - 1 of 1 reviews.
Review by Zare
16/06/2015
One thing has to be clear from the start – this book is not critique of private security industry and their actions from the "outsiders" (journalist, investigative reporters) point of view [as it is often case in most books on this subject that are considered with legal point of view on the issue of military force privatization – and I can say with a very good reason but I will not go into details here]. This is a book written [obviously] by an expert in the field of close protection who feels proud to be working for commercial security companies (CSC) and thinks that they have their place under the sun (he is more than proud when it comes to his teammates and working colleagues), but also feels more then embittered considering the way those same commercial security companies conduct and do their everyday job. He does not advocate shutdown of all CSCs but their reorganization and legal regulation that will enable them to remain professional (by that he considers using firearms to be a very last resort something that should happen only if everything else fails) and do the jobs that are truly jobs for them (author clearly draws the line between operations that are supposed to be conducted by regular military forces and those that are open to the market (CSCs) to pop right in). It is interesting point of view today – saying that CSCs are useful as an asset [or backup if you like] to regular military operations but should not become means for themselves, they should not become way for hiding seriousness of situation in conflict areas nor the way to hide number of casualties.Very interesting book, written by a man that knows what he's taking about. If you are interested in the field of CSCs/PMCs you'll like this one.Recommended.