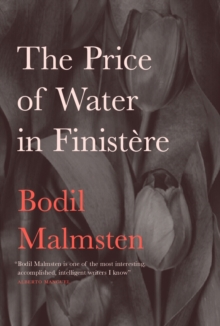 The Price Of Water In Finist� re
Hardback
Description
"In the same way as there's a partner for every person, there's a place.
All you have to do is find the one that's yours among the billions that belong to someone else, you have to be awake, you have to choose." With this conviction in mind, the central character of this engaging and profound novel by acclaimed Swedish writer Bodil Malmsten abandons her native country at the age of 55 to settle in Brittany.
For six months she is mind-lessly happy. Then, one fateful February day, she promises her elegant neighbour Madame C to write about her beloved "bit of paradise". At the heart of this portrait of a new life is the conviction that the happiness to be found in Finist-re will not allow itself to be, cannot be, expressed in writing.
Embroidered around this seeming paradox are poignant, outraged and thought-provoking observations on the widest range of subjects: how not to buy plants, the elicit pleasures of bargain-hunting, the misery of writer's block, social democracy, racism everywhere, tulipomania, the stubbornness of bank managers, the controlling of moles and slugs, death, political hypocrisy, the delights of wild weather. Malmsten's passion and humour shine through every episode she describes, however minor, offering the reader a window onto a solitary life at once touching, thought-provoking and, occasionally, hilarious.
Information
Format: Hardback
Pages: 224 pages
Publisher: Vintage Publishing
Publication Date: 01/03/2005
ISBN: 9781843431640
Free Home Delivery
on all orders
Pick up orders
from local bookshops
Reviews
Showing 1 - 2 of 2 reviews.
Review by clothingoptional
16/06/2015
The book is about a Swedish poetess who moves to a village in Brittany. It describes her first year there, the people she meets and such, but it isn't a typical expat discovery journal. There are politics mixed up with the gardening and deep discussions about the nature of language.Malmsten comes from Norrland in central Sweden. Swedish is actually her second language. The first, the language of the village, has no written form and no one from beyond the village understands it. The author spends a good part of the book wondering why she lived in Sweden for so long, in the repressive, spectacular dark. Yet life in Finistère is not perfect, it is merely separate from Sweden. In Finistère, the author is able to be the Other who will never be a local no matter how long she lives there. As such, she feels there are no expectations other than those she makes for herself.A book like this would not be complete with a friendly soul to guide her through her new life. Madame C arrives in a purple Peugeot and spends much of the story prodding Malmsten to write a book about Finistère. There are great passages about writers block and the futility of art to capture human experience without strangling the life out of it.A fantastic book both in concept and execution. It is translated from Swedish into English, and the translator managed to keep the poetic feel of the prose intact. Marvelous.Obviously, I'm a sucker for books like this. Check Thad Carhart's The Piano Shop on the Left Bank. Similar book in theme and emotional content. I suppose one reason I am drawn to books like this is that I believe in being the outsider. It is so much easier to be alone when you are the outsider, and being alone is what I crave.
Review by michalsuz
16/06/2015
One of my most favourite books - I've read it twice and am about to read it again...The only book whose author I've written a fan letter to. Her world view appeals to me deeply.Others in New Zealand have not responded this way: It must be the North European in me. And the Zen practitioner. She portrays life in France the way I experienced it; a clou for me was her broken French ...I bought the book originally because of the title and the cover - (the author has been badly served by her American publisher in this respect - a kitchy cover, a betrayal). There is apparently no plan to translate the sequel. I mourn.
Also by Bodil Malmsten