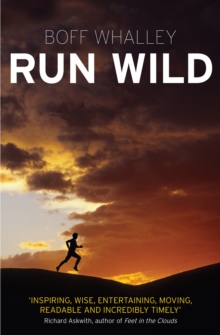 Description
Boff Whalley just likes running - the places it takes him, the moments of exhilaration and snapshots of natural beauty that he adds to his mental album.
This is not a man who signs up to big city marathons and pounds the pavements.
With his down to earth voice and a great sense of humour, Boff writes about how running brings a real world of discovery and adventure, from reaching the top of a mountain with the sun at your back and moon in front creating two shadows, to running up Mt Fuji on a break from work.
For Boff, running is about freedom, experiencing of the world, your place in it and generally just enjoying yourself.
Running is a way to get back to that simplest of relationships - the one between our feet and the earth.
Other Formats
Paperback from £10.99
EPUB from £5.99
Hardback from £11.79
Free Home Delivery
on all orders
Pick up orders
from local bookshops
Reviews
Showing 1 - 1 of 1 reviews.
Review by culturion
27/08/2015
I was surprised this book wasn't for me and I had to struggle to finish it (much as the author feels about slogging through a big city marathon). I enjoy running off-road. I am not as privileged as the author so it's mainly seeking out patches of green in the suburbia near my home and work with the occasional weekend away running wilder. I also run in races of all shapes and sizes and enjoy running as a way to explore a city. The most enjoyable parts of this book were when Whalley writes about his off-road running and shares experiences I can only dream of and when I recognised the more mundane joys of sunrises, woodland and toads that look like leaves that we share.Unfortunately the wild running sections form a minority of the book. The autobiographical sections I found self-indulgent and uninteresting. Sillitoe he is not. The long sections criticising city running I found repetitive and derogatory. It was the lament of the convert, the evangelist who despairs of others seeing the light. It came across opinionated and uninformed. There was no sense of speaking to others about their running in an attempt to understand why people run differently and run city marathons. By simply projecting his opinions onto them Whalley effectively others anyone who isn't running wild and replaces the dogma of the capitalist superstructure he criticises with his own ideology. Running isn't that alienating, it's inclusive and it's a shame the author couldn't find a more nuanced way to discuss running and advocate for running wild because there is probably a good book somewhere in here.