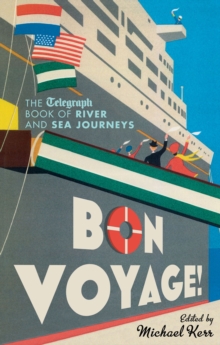 Description
Sooner or later in this island nation of ours you come to the end of the land.
There, the water begins, and further travel becomes a voyage.
Little wonder, then, that our journeys along rivers and across seas have made up such an important part of our history, or that Britain's writers have described them so eloquently and so often.
The vessel may be as small as a canoe or as vast as an ocean liner, the hazards a hippo or a hurricane, the fellow voyagers troops on their way to war or well-heeled pensioners cruising into the luxurious autumn of their lives: the result is always an elemental experience, and never less than adventure.
Now, Michael Kerr, deputy travel editor of The Daily Telegraph, has gone back through the archives of the paper and its Sunday sister to compile an enthralling anthology of the best writing they have published on travel by river and sea.
Here are historic events such as the D-Day landings, which Martha Gellhorn stowed away to cover, and the sailing of the Task Force for the Falklands, which Michael Nicholson watched from the poop deck of HMS Hermes.
There are arduous adventures on the Congo in the heart of Africa with H.M. Stanley (a Telegraph correspondent in the nineteenth century) and then Tim Butcher a hundred and thirty years later.
There is the first transatlantic voyage of the new Queen Mary, and one of the last cruises of the QE2.
There are glimpses into the cabins of lone seafarers from Joshua Slocum to Ellen MacArthur.
Sometimes the encounter - indeed, entanglement - with water leads to comedy, or even black farce, as when Tim Moore took his daughter rafting in Sweden, without realising that he would first have to build the raft.
At other times, as with Jasper Rees's account of the lonely, tragic demise of the round-the-world-yachtsman Donald Crowhurst, the ocean is a place of pitiless indifference.
But whether the voyage is out to the tiny island of St Kilda beyond the Outer Hebrides, or by icebreaker to the dazzling white ice sheet of Antarctica, or with the Bishop of Oxford on a coastal tour of India, Bon Voyage is an indispensable companion for your cabin, or even for a deckchair up on the sun deck.
Information
Format: Hardback
Pages: 320 pages
Publisher: Aurum Press
Publication Date: 25/10/2010
Category: Anthologies (non-poetry)
ISBN: 9781845136031
Free Home Delivery
on all orders
Pick up orders
from local bookshops