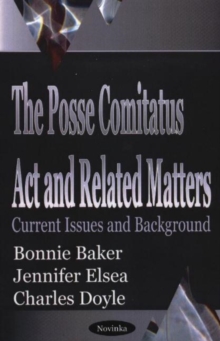 Posse Comitatus Act & Related Matters : Current Issues & Background
Paperback / softback
Description
The Posse Comitatus Act states that: Whoever, except in cases and under circumstances expressly authorised by the Constitution or Act of Congress, wilfully uses any part of the Army or the Air Force as a posse comitatus or otherwise to execute the laws shall be fined under this title or imprisoned not more than two years, or both.
This Act reflects an American tradition that bridles at military involvement in civilian affairs.
Congress, however has approved a number of instances where extraordinary circumstances warrant a departure from the general rule, particularly in cases where the armed forces provide civilian assistance without becoming directly involved in civilian law enforcement.
This compelling book provides a brief background along with current issues that highlight the Act by drawing attention to its existence and importance.
Information
Format: Paperback / softback
Pages: 76 pages
Publisher: Nova Science Publishers Inc
Publication Date: 22/06/2004
Category: Business,Finance and Law
ISBN: 9781590337219
Free Home Delivery
on all orders
Pick up orders
from local bookshops
Also by Bonnie Baker