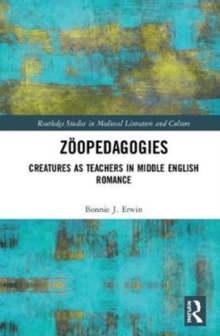 Zoeopedagogies : Creatures as Teachers in Middle English Romance
Hardback
Description
The human protagonists of medieval romance are works in progress.
They are learners, taught by an unexpected set of teachers: non-human animals including horses, hawks, lions, and the various quarry of the hunt.
These "creature teachers" show humans how to be more perfectly human-how to love, fight, survive, and live according to medieval culture's highest ideals.
Zoeopedagogies explores the pedagogical role of animals in medieval romance, a genre whose fantastical elements enable animal characters to behave in ways inspired by, but not limited to their real-world actions.
Situated at the intersection of animal studies and medieval studies, Zoeopedagogies claims medieval roots for posthumanism by telling a new story about the role of animals in constructing Western culture.
Bonnie Erwin brings together a diverse array of texts, including chivalric romances like Sir Gawain and the Green Knight and popular romances like Bevis of Hampton and Richard Coer de Lyon.
She puts these into conversation with medieval texts on natural science, horsemanship, hawking, and hunting that inform the representation of creatures who teach.
In so doing, she reveals a rich and nuanced sense of animals as participants in interspecies collaborative culture-making.
Information
Format: Hardback
Pages: 186 pages
Publisher: Taylor & Francis Ltd
Publication Date: 20/11/2018
ISBN: 9780367077365