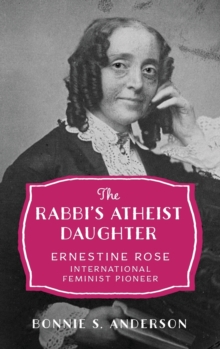 The Rabbi's Atheist Daughter : Ernestine Rose, International Feminist Pioneer
Hardback
Description
Early feminist Ernestine Rose, more famous in her time than Elizabeth Cady Stanton or Susan B.
Anthony, has been undeservedly forgotten. During the 1850s, Rose was an outstanding orator for women's rights in the United States who became known as "the Queen of the platform." Yet despite her successes and close friendships with other activists, she would gradually be erased from history for being too much of an outlier: a foreigner, a radical, and, of most concern toher peers and later historians, an atheist. In The Rabbi's Atheist Daughter, the most extensively researched account of Rose's life and career to date, Bonnie S. Anderson recovers the unique legacy of one of the nineteenth century's most prominent radical activists.
Born the only child of a Polish rabbi, Ernestine Rose rejected religion at an early age, legally fought a betrothal to a man she did not want to marry, and left her family, Judaism, and Poland forever.
After living in Berlin and Paris, she moved to London, where shebecame a follower of the manufacturer-turned-socialist Robert Owen.
There she met her future husband, fellow Owenite William Rose, and together they emigrated to New York City in 1836. In the U. S., Rose was a prominent leader at every national women's rights convention.
She lectured in twenty-three of the thirty-one existing states, in favor of feminism and against slavery and religion.
But the rise of anti-Semitism and religious fervor during the Civil War-coupled with rifts in the women's movement when black men, but not women, got the vote-effectively left Rose without a platform.
Returning to England, she continued speaking, advocating for feminism, free thought, andpacifism.
Although many radicals honored her work, her contributions to women's rights had been passed over by historians by the 1920s.
Nearly a century later, The Rabbi's Atheist Daughter, an engaging, well-rounded portrait of one of the mothers of the American feminist movement, returns Ernestine Roseto her rightful place.
Information
Format: Hardback
Pages: 264 pages, 22 illus.
Publisher: Oxford University Press Inc
Publication Date: 17/02/2017
ISBN: 9780199756247
Free Home Delivery
on all orders
Pick up orders
from local bookshops