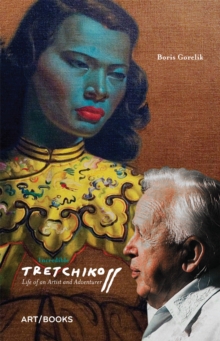 Incredible Tretchikoff
Paperback
Description
For two decades he was the most famous painter in the world.
Millions of people in Britain, the United States, Canada, Australia, New Zealand and South Africa flocked to see and buy his exotic pictures.
Celebrities queued up to be painted by him and to buy his works.
Paintings such as Chinese Girl the Green Lady quickly became iconic images, reproduced countless times and appearing everywhere from suburban living rooms to blockbuster films.
Vladimir Tretchikoff was the first popstar artist. He lived a life as colourful as his instantly recognizable paintings.
Born to a deeply religious Siberian family, he fought poverty, tragedy, captivity and near death to become one of the most celebrated artists of his time.
Loathed by the critics yet loved by the public, he defied misfortune and a dismissive art establishment to enjoy phenomenal success across the English-speaking world.
Coinciding with the centenary of his birth, Incredible Tretchikoff tells the enthralling story of this flamboyant artist from his humble beginnings to the spectacular highs and lows of his later career. We hear thrilling accounts of his early years as a Russian orphan in Manchuria and his efforts to make his way as a young man in a strange land.
In Singapore in the 1930s, he was accepted into the social elite and his art became the talk of the town.
Meanwhile, he secretly worked for the British Ministry of Information producing anti-Axis propaganda.
But his high living was brought to an abrupt end by the war.
He was nearly killed when the Japanese sank the boat on which he was trying to escape; taken prisoner, he was forced to use his artistic skills for the enemy.
Accused by his captors of being a spy, he somehow survived, and was eventually reunited with his wife and daughter in Cape Town after the war.
Within years, through sheer determination and despite the hostility of the local art community, Tretchikoff had become South Africa's best-selling artist and his fame had spread across the globe.
In the past half decade, there has been a resurgence of interest in his work.
Today his pictures inspire a younger generation of hip designers, artists, film-makers and musicians, and change hands for hundreds of thousands of pounds. With the pace and suspense of an adventure novel, Incredible Tretchikoff matches the drama of its subjects extraordinary life.
It reveals the remarkable stories that lie behind his most famous pictures, while presenting recently uncovered information and previously unseen photographs.
This fascinating and gripping book is a fitting record of one of the most popular and controversial painters of the twentieth century.
Information
Format: Paperback
Pages: 304 pages, Illustrations
Publisher: Art / Books
Publication Date: 05/08/2013
ISBN: 9781908970084
Free Home Delivery
on all orders
Pick up orders
from local bookshops