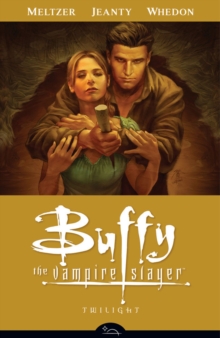 Buffy the Vampire Slayer : Twilight Season 8, volume 7
Paperback
Information
Format: Paperback
Pages: 160 pages, chiefly col. Illustrations
Publisher: Dark Horse Comics,U.S.
Publication Date: 05/10/2010
Category: Horror & ghost stories
ISBN: 9781595825582
Free Home Delivery
on all orders
Pick up orders
from local bookshops
Reviews
Showing 1 - 5 of 20 reviews.
Previous | Next
Review by brochettes
16/06/2015
Please, for the love of... just no. Nonono. Now where did I put that bottle of brain bleach?
Review by timjones
16/06/2015
I have often found Buffy Season 8 storytelling too rushed in comic format compared to the TV series, so I liked the slower, more character-focused approach in this volume, even though a major plot development revealed herein is ... puzzling.
Review by lithicbee
16/06/2015
Oh, the perils of only reading comics when they come out in trade paperback. The big reveal of the identity of Twilight was ruined for me before I could get to this one, and if it hadn't been, one glance at the cover of the tpb might have done it as well. So, disappointing in that respect, but otherwise very fun. Geeky fun. Comic book references out the wazoo as Buffy develops classic superhero powers just in time for the big showdown with Twilight.This story gets trippy, to be sure, but I love the places a comic book can go that the TV show was unable to, and by the end of this volume, I am still eager to see what happens next, which is always a good thing.The one-shot, Willow: Goddesses and Monsters, was also interesting and a nice inclusion, although extraneous to the Twilight plot.
Review by Rhinoa
16/06/2015
The penultimate graphic novel in the latest series of Buffy which carries on from where the television show finished. The identity of Twilight is revealed finally. This was pretty rubbish to be honest. The cover gives away a major plot point and I was really unimpressed.
Review by DanieXJ
16/06/2015
Alright, I'm a little less confused after this TPB, a little, not much though. This is the volume in which Twilight's identity is revealed. I was mildly surprised, though there were some clues that helped.Honestly, the best part of the book was all the Superhero (and villain) puns and allusions. They even had one from Smallville -"Why run if you could fly." Most of them were pretty funny.As for the story 'Willow: Goddess and Monsters', it was interesting. It was about Willow starting her training-ish sorta mission. Picking a guide (not the one that I would pick, but then again, I thought the entire Season Seven, especially Kennedy, was a shadow of what the rest of the series was).