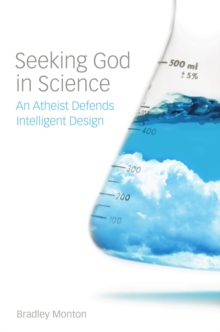 Seeking God in Science : An Atheist Defends Intelligent Design
Paperback / softback
Description
The doctrine of intelligent design has been maligned by atheists, but even though Monton is an atheist, he is of the opinion that the arguments for intelligent design are stronger than most realize.
The goal of this book is to try to get people to take intelligent design seriously.
Monton maintains that it is legitimate to view intelligent design as science, that there are somewhat plausible arguments for the existence of a cosmic designer, and that intelligent design should be taught in public school science classes. In Chapter 1, after setting aside the culture wars that many people associate with the intelligent design movement, Monton discusses the issue of what exactly the doctrine of intelligent design amounts to.
In Chapter 2 Monton discusses the ruling of Judge Jones in the recent Dover, Pennsylvania intelligent design trial, and he takes issue with his arguments for the claim that intelligent design is not science.
In Chapter 3 Monton takes up four arguments for intelligent design that he thinks are somewhat plausible: an argument based on the fine-tuning of the fundamental constants of physics, an argument based on the beginning of the universe, an argument based on the improbability of life originating from non-life, and an argument that suggests that we're living in a computer simulation.
In Chapter 4 Monton argues that it could benefit students' science education to see the arguments for and against intelligent design, and to be introduced to the philosophy of science issues that are key components of those arguments.
Monton's position is unique and of great interest to people involved in this debate (especially from those favoring intelligent design).
Relatively few people in philosophy of science have suggested that there are decent arguments for why intelligent design is science (indeed, most of the well known philosophers have argued the contrary - e.g., Philip Kitcher, Abusing Science.
MIT Press, 1983).
Information
Format: Paperback / softback
Pages: 180 pages
Publisher: Broadview Press Ltd
Publication Date: 15/07/2009
Category: Religion & science
ISBN: 9781551118635
Free Home Delivery
on all orders
Pick up orders
from local bookshops