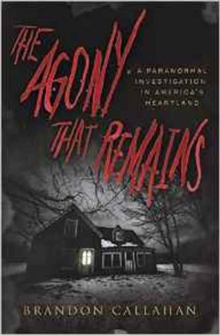 The Agony That Remains : A Paranormal Investigation in America's Heartland
Paperback / softback
Description
In the northeast corner of Oklahoma, where the deadly path known as the Trail of Tears ends and where one of the world's large clusters of ley lines intersect, there's a place of extreme paranormal activity that has received little attention from the outside world.
Join Brandon Callahan and his crew as they investigate the horrifying legacy of a bloody and brutal past, where generations of families have been terrorized by ghosts, demons, UFOs, Bigfoot, and countless other paranormal manifestations.
Teaming up with a family who has been driven from their land, Brandon and his team discover energies that have no fear.
As dark forces begin taking hold of the investigators' lives, Brandon must attempt to salvage what's left of his team's-and his own-sanity.
Free Home Delivery
on all orders
Pick up orders
from local bookshops