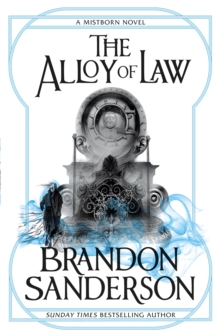 The Alloy of Law : A Mistborn Novel
Paperback
Part of the Mistborn series
Description
The Mistborn trilogy has become a firm favourite with fantasy fans the world over.
The imagination that Sanderson brought to the series and his skill at marshalling epic storylines and dramatic action, his ability to create vivid characters made him a natural choice to complete Robert Jordan's epic wheel of time sequence.
But with Mistborn, his standalone fantasies and his new series, The Stormlight Archive, Sanderson has shown his bountiful talents in his own fiction.
Now he returns to the series that made his name with a new story set years after the events of Hero of Ages. In a world recovering only slowly from evil, a world where allomancers wield immense power through their ability to unleash the magic bound up in common metals someone who can burn metals that no-one has burned before can tip the balance...Sanderson has the knack of giving the epic fantasy reader exactly what they want.
This ability has thrown him to the forefront of the genre and the dramatic story within The Alloy of Law shows off this skill to its very best.
Information
Format: Paperback
Pages: 336 pages
Publisher: Orion Publishing Co
Publication Date: 31/07/2012
Category: Fantasy
ISBN: 9780575105836
Free Home Delivery
on all orders
Pick up orders
from local bookshops
Reviews
Showing 1 - 1 of 1 reviews.
Review by reading_fox
16/06/2015
Not quite sure what to make of this. It's a significantly later in time addition to the original Mistborn series. There's enough recap on how the world works that you don't need to have read the original series, but you'll miss a few references to the early characters if you haven't. The feel however is somewhat different. Instead of a 'classical' fantasy world we now have a Western. With electricity and guns, but also still the metal "burning" magic. Our hero one Lord Wax, is the black sheep of the family and spent the last several years out in the Roughs bringing law and order to the small communities there - by whatever means he could. However following the death of his uncle he is now required to come back to the City and establish the family name in a refined and genteel setting. HOwever he quickly discovers that City life is acyually hard er than out in the Roughs, and the number of lawmen around proportionally fewer.Although he has resolved to reform and become the City Lord his family need him to be, he can't prevent himself from investigating a gang of criminals who've started kidnapping prominent women - his own fiancee amoung them.Although the plot is fairly straightforward the feel of the book is somewhat confused. The Western overtone always predominates, but the electricity that is stressed so often counteracts this. Woven around this is a crime/mystery element, but not enough detail is spent elucidating it. . All of this worldbuilding unfortunetly detracts from the characters. Wax and his sidekick Wayne (yes there are quite a few bad puns scattered through this, although it doesn't approach pTerry levels of humour) banter quite a bit between them, and while Marissa stars a little at the beginning she is quickly sidelined. Which is a shame. The action is seldom that intense because of the crime sideline, so there should have been space to develop the characters a little - some more interplay between Marissa and her sister for a start. Perhaps overal the book is actually too short! Somethign of a rarity if fantasy thesedays (esp given Sanderson's recent offerings). An extension would also enable the ending to be finished properly, at the moment the hook is set for a sequel although I understood from the author's preamble that it is intended to be a standalone.The magical system remains clever, but is taken soemwhat for granted, reducing the wonder that it inspired in the earlier books. Sanderson appears to have updated the list of metals' powers a bit, and found uses for ones that were not given in the earlier books. There is a delight in reading the well worked out physics though, the things you can and can't do with extra mass or time. It is easy to get this wrong, but Sanderson appears ot have not made any significant errors, and even more importanlty remained consistant throughout in what the powers can and cannot do. Not bad - enjoyable and novel in many ways - but probably too short and too confused across too many genres to really work well.