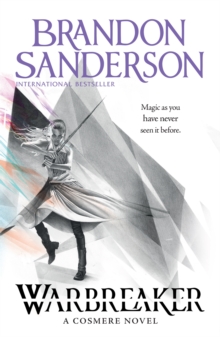 Description
WARBREAKER is the story of two sisters - who happen to be princesses, the God King one of them has to marry, a lesser god, and an immortal trying to undo the mistakes he made hundreds of years ago.Theirs is a world in which those who die in glory return as gods to live confined to a pantheon in Hallandren's capital city.
A world transformed by BioChromatic magic, a power based on an essence known as breath.
Using magic is arduous: breath can only be collected one unit at a time from individual people.But the rewards are great: by using breath and drawing upon the color in everyday objects, all manner of miracles and mischief can be performed.Brandon Sanderson proves again that he is a master of what Tolkien called 'secondary creation,' the invention of whole worlds, complete with magics and myths all their own.
Information
Format: Paperback
Pages: 672 pages
Publisher: Orion Publishing Co
Publication Date: 01/12/2011
Category: Fantasy
ISBN: 9780575097469
Free Home Delivery
on all orders
Pick up orders
from local bookshops
Reviews
Showing 1 - 3 of 3 reviews.
Review by drachenbraut23
16/06/2015
"I try to avoid having thoughts. They lead to other thoughts, and—if you're not careful—those lead to actions. Actions make you tired. I have this on rather good authority from someone who once read it in a book." "Unknowing ignorance is preferable to informed stupidity." "It was strange, how easily and quickly protection could cause destruction. Sometimes, Vasher wondered if the two weren't really the same thing. Protect a flower, destroy pests who wanted to feed on it. Protect a building, destroy the plants that could have grown in the soil. Protect a man. Live with the destruction he creates." And again Brandon Sanderson was able to convince through absolutely stunning and vivid storytelling. The story is full of political intrigue, again he managed to present us with wonderful and fascinating magic, characters to care about and a good portion of laughter. In this standalone novel (I mean seriously, there is actually still room for a follow up) we meet two very different sisters, Vivenna and Siri. Two princesses who come from a small and rustic highland kingdom. Vivenna the older of the siblings was raised to become the wife of the god king of the neighbouring kingdom, in order to prevent war between the two rival kingdoms. She is composed, knowledgeable and very much aware about her duties to her kingdom. Siri, on the other hand, as the youngest child was allowed to run wild, with a scetchy education and a very emotional temper. When the day of the arranged wedding arrives, Vivenna's father decides that he loves her too much to sacrifice her to the god king and sends his wild daughter Siri in her stead. Vivenna, being trained all her life for this role feels bereft, deceived by her father and purposeless, then decides to follow her sister and rescue her from her unknown fate. Thus both sister end up in this vast city under very different circumstances and different pathways ahead. Whilst Vivenna's inital aim was to rescue her sister from the clutches of the despised god king, she very quickly finds herself at the outskirsts of the city, trying to raise a rebellion against the Hallondren's in order to prevent the looming war. Well, and Siri finds out that the god king and the court of god's isn't at all that what she was made to believe.
Review by seekingflight
16/06/2015
This is the story of two sisters, princesses from the kingdom of Idris. One is the dutiful eldest daughter, Viviena, who's been promised in marriage to the God-King of the rival kingdom of Hallendren and has been preparing for this for pretty much as long as she can remember. The other is the youngest, more rebellious daughter, Siri, who's sent in Viviena's place by a father who can't bear to let his beloved Viviena go, as tensions build between Idris and Hallendren. Viviena follows her sister in the hopes of rescuing her, as the prospect of war starts seeming more and more likely. In Idris, we meet Lightsong, a God who finds himself questioning his own divinity, and the mysterious God-King Susebron.I didn't know where this story was going, enjoyed the characters and the ways in which they grew through the events of the story, and found myself completely engrossed.
Review by shanaqui
16/06/2015
There were some flaws for me with <I>Warbreaker</I> -- like many other reviewers, I felt that the wrapping up at the end went way too fast -- but all in all, I thoroughly enjoyed it. I've found that I like Brandon Sanderson's world-building a lot, no matter what he's doing: he seems to bring a flair to it, seems to be able to make it that bit different from the rest of the fantasy fare around. I wasn't sure anyone could pull off some of the stuff in <I>Warbreaker</I>, like the princesses whose hair changed colours with their mood -- it seemed like something right out of some kind of wish fulfillment fanfic, which generally doesn't do much for me. I mean, it's usually changing eye colour in those stories, but the super specialness applies.The other thing is that Sanderson manages to keep things consistent. None of this felt like a deus ex machina, even when it kind of was: the various sacrifices, discoveries, etc, all seemed perfectly foreshadowed by the text. I didn't find all of it terribly surprising -- I figured out some people weren't as trustworthy as they seemed to the princesses, for example -- but I did enjoy it, and I felt it makes sense. The storytelling, too, works for me: it goes along at a great pace and kept me interested and going 'just one more chapter, just one more' again and again.One thing I didn't like so much was Vivenna's character development. Or Siri's, in a way: I liked that Siri became capable, learned to value herself, learned what she could do. I wasn't enamoured of the way they basically swapped roles, though. And we spent an awful lot of time with Vivenna being self-important and self-righteous, neither of which are traits that appeal to me. I wasn't, in general, very attached to Vivenna and Vasher at all; their stories were necessary for the plot, but emotionally I didn't get attached. I suppose really, I was mostly attached to Lightsong and Llarimar: Lightsong's character development was something I really was interested in.The ending wraps up extremely quickly, and leaves things wide open for another book, but the story itself is self-contained as well, which is rare enough in this time of trilogies (and trilogies of trilogies). I loved that it wrapped up within one book, leaving things open and uncertain in the future for the characters, but without leaving any big gaps.