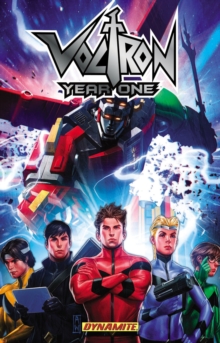 Voltron Year One
Paperback / softback
Description
Voltron: Year One (Book MarketSolicit) Before Arus.
Before Voltron. They were Space ExplorerSquadron #686. Soon, they will be known as the legendary VoltronForce---Keith, Lance, Hunk, Sven, and Pidge---five young men entrusted with fivepowerful robot lions and the responsibility of defending the universe fromunimaginable evil.
Now, they are one of many Space Explorers under the commandof the Galaxy Alliance, tasked with keeping the Earth safe and the skies clearin a universe growing more and more dangerous every day.
They're the bestcentral command has to offer, and have never once failed amission. Everything changes in a flash, and Commander Sven, alreadyhammered by persistent feelings of self-doubt and inadequacy, finds himself inthe middle of a conspiracy that reaches to the top of the Galaxy Alliance.
Allthe while he continues to be plagued by nightmares, convinced that he'll make acritical mistake that'll lead to the horrible deaths of his friends.
Duringthese critical weeks, we delve fully into the character and motivations offuture Blue Lion pilot, Sven, and more specifically, the physical and emotionaltoll this intense level of responsibility takes on a man who doesn't considerhimself worthy of it.
When the pressure on him intensifies, he pursues a numberof increasingly desperate measures that just might bring these fears to terriblelife.
Information
Format: Paperback / softback
Pages: 144 pages
Publisher: Dynamic Forces Inc
Publication Date: 02/04/2013
Category: Science fiction
ISBN: 9781606903650
Free Home Delivery
on all orders
Pick up orders
from local bookshops