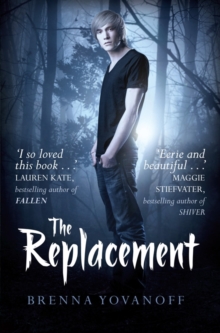 The Replacement
Paperback
Description
Mackie Doyle is a replacement - a fairy child left in the crib of a human baby sixteen years ago, to replace the baby when it was stolen away by the fey.
So though he lives in the small town of Gentry, Mackie's real home is the fey world of tunnels and black, murky water, a world of living dead girls ruled by a little tattooed princess.
Now, because his fey blood gives him fatal allergies to iron, blood and consecrated ground, Mackie is slowly dying in the human world.
Mackie would give anything just to be normal, to live quietly amongst humans, practice his bass guitar and spend time with his crush, Tate.
But when Tate's baby sister goes missing, Mackie is drawn irrevocably back home to the fey underworld of Gentry, known as Mayhem, where he must face down the dark creatures, rescue the child, and find his rightful place - in our world, or theirs.
Information
Format: Paperback
Pages: 384 pages
Publisher: Simon & Schuster Ltd
Publication Date: 06/01/2011
Category: Fantasy
ISBN: 9781847388391
Free Home Delivery
on all orders
Pick up orders
from local bookshops
Reviews
Showing 1 - 5 of 6 reviews.
Previous | Next
Review by DarkFaerieTales
16/06/2015
Quick & Dirty: The concept of this book is intriguing, but it fails to coalesce into something really captivating.Opening Sentence: I don't remember any of the true, important parts, but there's this dream I have.The Review:The small town of Gentry is unusual to say the least. Some of Gentry's children have been replaced by doppelgangers. The real children are never heard from again, and the good people of Gentry act as if nothing is amiss. Mackie Doyle is a Replacement. He's a changeling, struggling to survive in the human world. Iron, blood, and consecrated ground are deadly to him. Mackie sets out on a journey to find answers about what's really going on in Gentry, his past, and how he will survive the future.The Replacement started out strong. I love the premise and really wanted to experience this dark, creepy and twisted world. Ultimately, The Replacement didn't work for me. I like Ms. Yovanoff's stylistic prose. Some of the descriptions and passages were over the top, and at times the writing was choppy, but for the most part very good. Unfortunately, I found myself frustrated as the story progressed. Many story elements were too vague. The esoteric world-building left a lot to be desired; leaving the reader with more questions than answers.I vacillated over whether I even liked Mackie Doyle. His whole emo routine really grates on my nerves. At one point, I remember thinking – damn, Mackie. Grow a "set" why don't you! Ms. Yovanoff seems to have run into a problem writing an authentic male protagonist. Aside from having a boy's name, Mackie essentially behaves like a teenaged girl. Much of his skulking around is self imposed, and much ado about nothing. Ironically, Mackie loathes some of the adults for being weak and not standing up to the truth and just going along to get along, while he himself behaves in the same way. Mackie is just too weak of a character for my taste.The surrounding cast of characters aren't particularly noteworthy or unique. Roswell, Mackie's best friend, brings nothing to the story. He's a very one dimensional character. Tate, Mackie's dismal love interest, is a total nightmare. Mackie and Tate share a very awkward emotional attachment, and I for one never bought into it. I didn't think that any of their interactions built on a believable romantic relationship. Her brashness, aggressive and erratic behavior didn't endear her to me and I found her to be quite annoying.A few elements of the world-building were essential. Gentry, The House of Mayhem and The House of Misery all play a significant role and I wish they were more developed. The "villains" in this story are underwhelming. They aren't all that resourceful, powerful, smart or particularly determined. The Lady and The Cutter both fail to intimidate. It's clear to see that their convenient weakness serves as an all too apparent plot device. The dark creatures just didn't live up to their purpose.Overall, The Replacement is just a so-so read. Too many characters with unconvincing motivations and underdeveloped mythology hurt what could have been a great supernatural story. The readers must suspend too much disbelief when incredibly weak characters prevail over the dark creatures of the Slag Heaps. While it was an intriguing premise, I found The Replacement slow-moving, and the characters uninteresting.Notable Scene:The door was there almost at once, so dull and worn out that it was almost invisible. There was no handle, so I knocked and stepped back. For a second, nothing happened, but then the outline flared from inside, lit with a warm glow. From far away, I heard the sound of bells and was blindsided by a strange feeling of inevitability. The hill had always been there, looming over the park, right there on the other side of the fence. Waiting for me.When the door swung open, no one was waiting in the entryway. Glass lanterns lit the corridor in two rows. The panes were set in a network of lead, arranged in fancy diamond patterns. When I pushed my way inside, the door swung closed behind me. The knife lay on the floor and I bent and picked it up.The Lady's hill was nothing like Mayhem. The walls were paneled in dark, polished wood, with an intricately tiled floor and carved baseboards. Everything was clean and symmetrical and shiny. Stained glass windows hung in rectangular alcoves along the hall, the pictures lit from behind with oil lamps. The air smelled nice, like cut grass and spices.The Replacement Series:1. The ReplacementFTC Advisory: Penguin Group provided me with a copy of The Replacement. No goody bags, sponsorships, "material connections," or bribes were exchanged for my review. In addition, I don't receive affiliate fees for anything purchased via links from my site.
Review by wyvernfriend
16/06/2015
Mackie Doyle is a replacement, he lives in the small town of Gentry where children sometimes disappear and strange children left in their place, strange replacements who die pretty quickly, he's the only one who is has lived beyond childhood, however the human world is killing him, his mother does her best but it's not enough.He tries to keep his head down but when the girl he fancies, Tate, loses her baby sister, Tate forces him to face up to the reality of himself and get involved. When he does he has to make some choices and those choices have consequences.I liked this one, the story was well-constructed and Mackie is an interesting character, well rounded and intriguing. He is self-depreciating and reads like a teenager. Still there's an edge, faerie in this world isn't pretty, it isn't nice, it's closer to the older faerie stories. I would like to read more by this author.
Review by LarissaBookGirl
16/06/2015
Mackie has spent his whole life trying to blend into the crowds, escaping the spotlight, doing whatever it takes to go unnoticed. But Mackie is a replacement, a changeling, and one look at him will tell you that he is other, that he doesn't belong. But as long as he pretends that he belongs no one will question him.The problem is, however, Mackie doesn't feel as though he belongs despite the best efforts from his sister and a few close friends. Mackie has nothing to live for in our world, which may be just as well as our world is slowly killing Mackie and if he wants to survive he will have to enter a new and eerie world of music, death, underground domains, ancient rituals and of course magic.The Replacement is more then just a story of faeries; it is a story of identity, sacrifice and love. The town Mackie grow up in has always dealt with his kind by feigning ignorance and looking the other way when a child was stolen, for deep down they all new that in the end it kept the town going and helped the town prosper. But when one person begins to question, Mackie must finally face what he is and decide just where he truly belongs. A brilliant urban faerie story.
Review by Bibliotropic
16/06/2015
Yovanoff weaves a fantastic tale here about the darker side of what we often think of as faeries but could well also be called demons, gods, or any number of things. That, actually, is part of the point of the novel, mixed and mingled with philosophy about belief being what gives these creatures any power to begin with, no matter what they're called. It's an interesting take on mythology and how it plays in the modern world, and I liked it!Stylistically, Yovanoff's got some distinction here. I've read some YA novels that could have been written by anybody, for all that their style stood out. This, I'm happy to say, was not one of those books. She plays with stream-of-consciousness, with nonstandard descriptors, and with a slightly depressive feeling that suits the plot and the character of the book quite well.I also loved how the darker secrets of the town were not really secrets. Everyone knew about them, but the code of silence kept anyone from speaking out or doing anything. I was expecting that people would just be rationalizing everything away, that nobody would guess anything's that odd about Mackie or the death of Tate's sister, but no, that wasn't the case. People knew, and they averted their eyes because things were as they had always been, and that was just how it was. Whether they complained about it or believed it really was for the best, it still <i>was</i>.That whole situation was underscored by an exchange near the end of the novel, when Mackie asks if, after the demise of the Lady, the town would cease to be as good as it had been. He's asked in return if it was ever good, at least in his memory. Simple lines, simple questions, but with a powerful meaning behind them, and that is the essence of what makes Yovanoff so damn good at this! She knows how to condense complicated issues into poignant questions and observations that make you think about them instead of just telling a story that leads you along by the hands and gives you convenient recaps along the way. You've got to have a good understanding of subtleties, of philosophy and the nature of existence and mythology and psychology to appreciate all of the little twists and turns and questions that come up over the course of the 300+ pages.This is definitely a book worth recommending. If darker intelligent YA urban fantasy is your thing, then definitely grab a copy of <i>The Replacement</i>, and be prepared for something that will leave you a little bit sadder, wiser, and older when it's all said and done.
Review by summerskris
16/06/2015
On the plus side, a whole bunch of books came in for me at the library, and I finished reading The Replacement by Brenna Yovanoff. It was a nice change of pace from other high-tensioned paranormal romance in that (1) the protagonist is male and (2) he lives in a creepy town filled with secrets. It's different from other small town paranormal romance novels because all the town members are in on the fact that something isn't right in the town. They know that there are creatures stealing their babies, so they keep iron around. However, they won't admit that the town isn't natural. I enjoyed reading the story from a male's point of view and from a changeling at that. Being changeling doesn't give Mackie any special powers. In fact, it's mostly a weakness since he can't touch iron, he grows faint at the smell of blood, and he can't step on hallow ground. Nevertheless, Mackie really isn't different from any other human male despite being a changeling. He eyes girls (Alice), and he has his own troubles about self-identity. Most importantly, he has people he cares about and who care about him in return. Emma especially is an amiable character, and we can see how important she is to Mackie's life. He admits that she is the one who helped him live for so long. I enjoyed how Yovanoff described the town of gentry, especially the Morrigan and her people, whom she portrayed in a fascinatingly creepy manner. I loved the scene where Mackie asks the dead girl to give back Emma's gloves. It is a touching scene considering how the dead girls realize that nobody can love them because of their rotting bodies, so the kiss is important to the girl with the glove. It is also the moment where Mackie realizes that they aren't bad at all. They're just trying to live with the pieces that they have been dealt in the only place that will accept them. Tate is a strong female character, though it is mostly because we see her from Mackie's perspective, and he admires her for being an outspoken person as compared to his own indecisive nature. She doesn't pretend that everything is all right like the rest of the town. She gives Mackie the strength that he needs to confront the Morrigan's sister to get Nathalie back. I do wish that Yovanoff spent more time developing the romantic tension between Mackie and Tate. It is hard to see why Mackie has such an interest in Tate when he's always shown an interest in Alice (in the beginning, I did think that she was the primary romantic interest). Yovanoff could have better developed Mackie's relationships with the people of Gentry. For example, just why was word Freak being painted on Mackie's locker? It was never explained whether or not people know that he doesn't belong. And why does Alice take a sudden interest in Mackie? I can't see any character motivation here. Her role in the story is minor, and Yovanoff might have just excluded her from the story unless she plans on writing a sequel where Alice plays a larger role, which I haven't heard about. All in all, I enjoyed this book. I would recommend this book for those looking for a different kind of paranormal read in a time where most writers are turning in dark, high-tension paranormal romance reads. Yovanoff does a great job incorporating old superstitions in Gentry, and I will be looking out for new releases from her!