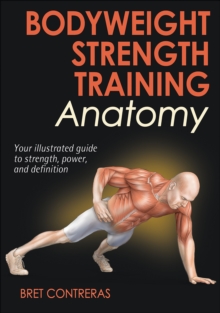 Bodyweight Strength Training Anatomy
Paperback
Description
This is the new addition to the two million bestselling range.
In Bodyweight Strength Training Anatomy, author and renowned trainer Bret Contreras has created the authoritative resource for increasing total body strength without the need for free weights, fitness machines or even a gym.
Going far beyond standard pull-ups, push-ups and squats, Bodyweight Strength Training Anatomy presents 156 innovative exercises that work every muscle in the body.
Each exercise includes step-by-step instructions demonstrating proper technique and more than 170 full-colour anatomical illustrations depict muscles in action and point out which ones are being engaged.
This book is part of Human Kinetics' bestselling Anatomy Series that has sold more than two million copies.
Information
Format: Paperback
Pages: 224 pages, 174 Illustrations, color; 160 Halftones, color
Publisher: Human Kinetics Publishers
Publication Date: 06/09/2013
Category: Exercise & workout books
ISBN: 9781450429290
Free Home Delivery
on all orders
Pick up orders
from local bookshops
Reviews
Showing 1 - 5 of 8 reviews.
Previous | Next
Review by 06nwingert
16/06/2015
Bodyweight Strength Training Anatomy is a bok for weight training novices. The text isn't too complicated, and it is accompanied by anatomically- correct diagrams. Each chapter covers a different body part/muscle group.
Review by dbell154
16/06/2015
This, and the series of books like it, are awesome. I don't know how much body builders need to know about anatomy, but for the curious, like me, understanding what muscles are being used, and how, is quite interesting. The other purpose of the book, training techniques using bodyweight strength are also quite useful. There are several useful tables in the back, that cover routines, for examples. One of the tables includes exercises and types of movements, but I don't really see me using that. Overall, it is a good reference to exercises and muscle function, and can be scanned pretty quickly for an understanding about an effective training program.It would have been nice to see how bodyweight training could be integrated with other bodybuilding activities.
Review by brendajanefrank
16/06/2015
The concept of improving your muscles without weights or machines is appealing. It removes major excuses for not exercising and allows you to workout anywhere, at your convenience.However, I had the impression that "Bodyweight Strength Training" would require no equipment. That isn't exactly the case. Many exercises use furniture and house structural items to replace gym equipment. Think of hanging off the rafters as a monkey.Various exercises use a vertical pole, chairs, large boxes or a weight bench, open rafters, a sturdy door or a chin-up bar, a step stool and a table. Sometimes you might be safer and better off using some gym equipment rather than furniture for exercising. Chairs can move while you are doing your scapular shrugs. You certainly don't want to misjudge the sturdiness of your door.Exercises are grouped by body parts and designated with degree of difficulty, from one to four. This allows you to design a personalized exercise program or work on specific muscle groups.The anatomical illustrations and wonderful. They depict the function of each exercise and clarify the movements. I own both Women's Strength Training Anatomy and Strength Training Anatomy, 3rd Edition(for men) by Frédéric Delavier, which also show exercises illustrated with people without skin. The Delavier books have better illustrations with much greater detail, but employ bands, free weights and machines in the exercises. I find the anatomical diagrams in all of these books extremely helpful when selecting and performing exercises.I would like to see more explanation and guidance in how to do the exercises correctly, both for effectiveness and to avoid injury. There are many admonitions to "do this" or "don't do that, " omitting the "why" of the directive. For example, in performing the"Single-Leg Box Squat" you are told, "Don't let your knees cave in or out," but the reason for this instruction is missing. Proper form is critical in improving and protecting the body, and many of us need explicit and more detailed instruction.The last chapter of "Bodyweight Strength Training" has useful advice in how to design a training program to meet your goals, including a chart of all the exercises and sample routines. I'm confident that this book can guide you to achieve your ideal body; it's just a matter of doing it . . .
Review by Bookmarque
16/06/2015
This is truly a book for anyone who wants to improve strength, balance, coordination and flexibility in privacy or without access to a gym full of gear. Unlike most books like these (Convict Conditioning), this one gives you a series of exercises, a wide variety, rather than just a few with progressions to improve in them. For example, this is how most bodyweight exercise books would approach the push-up, from easiest to most difficult -1. wall pushup2. table3. knee4. standard5. offset6. one-armed7. the Stallone (one-armed with clap)Instead Contreras gives you 12 different styles of pushups that you can work into your routine as needed or when equipment isn't available. This approach is good for people who want variety rather than the attainment of a narrow goal.Illustrations are spectacular - muscles involved and overall details of musculoskeletal structures are shown with figures engaged in every exercise. They are labeled with common and Latin names. He also includes female athletes as well as male so that it presents less testosterone-y and in-your-face. For each exercise, the author starts with a section showing proper technique, then outlines the muscles involved (again with those great illustrations), then a notes section including tips and pointers for perfecting the movement. Helpfully, Contreras indicates levels of difficulty for each exercise with a vivid graphic for easy identification. Finally at the end, he supplies sample program routines for overall fitness and effective workouts without equipment. A marked departure which results in a great improvement over most bodyweight exercise books.
Review by realbigcat
16/06/2015
I have had the pleasure of reviewing several fitness related books by Human Kinetics and I find them all to be valuable sources of fitness and health information. This book Bodyweight Strength Training Anatomy is no exception. One of the newer fitness trends is strength training using your own bodyweight. You can see this in the "boot camp' fitness training. The great thing is you can do these exercises any where and not need a gym or expensive weight equipment. This book as always printed on high quality glossy stock paper gives a huge selection of exercises and explanation and tips for each exercise. I like the fact that they use illustrations as opposed to fitness models. The illustrations are highly detailed and show you exactly which muscle groups are used for each exercise. Each muscle group is labeled as well. Also a great section on putting a fitness program together. This is a wonderful addition to any fitness library. Check out other titles from Human Kinetics. They are all well worth reading.