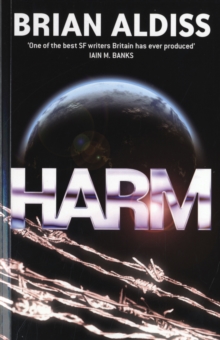 Description
It is the very near future. Paul Ali, a young science fiction writer, who has the perceived misfortune of a Muslim heritage, has been arrested for no compelling reason.
He is held as prisoner B, without a lawyer and isolated.
Whenever the powers-that-be fancy a diversion, they beat him up.
A foul-mouthed jobsworth subjects him to coarse and unremitting questioning.
To escape from this humiliation prisoner B writes - in the privacy of his mind - a science fiction novel set on a planet in every sense a thousand light years away.
But gradually the two worlds start to converge...In the tradition of dystopias like "1984", this novel shocks and entertains.
Information
Format: Paperback
Pages: 232 pages
Publisher: Duckworth Overlook
Publication Date: 21/08/2008
Category: Science fiction
ISBN: 9780715637623
Free Home Delivery
on all orders
Pick up orders
from local bookshops
Reviews
Showing 1 - 1 of 1 reviews.
Review by iftyzaidi
16/06/2015
This is an interesting little book by Aldiss. Once again he plays and interrogates a number of ideas and themes in an off-beat fashion while making use of familiar tropes from the sfnal toolbox. This time many of the themes are rooted in the post 9/11 world and deeply concerned with what is happening in the world today.The basic story is as follows: Paul Fadhil Abbas Ali is a British Muslim novelist who finds himself arrested and whisked away for interrogation to an unknown 'black site'. He is under suspicion because of a conversation in his comedic novel where one of the characters jokes about blowing up the Prime Minister. Through the course of the book, held under terrible conditions and continually interrogated, he starts hallucinating that he is a colonist named Fremant on a distant, hostile planet where a combination of a hostile environment and corrupted data in the colonists' reconstituted personalities has left the human population in a state of semi-barbarism under a dictatorial regime.There seems to be a whole lot happening in this novel as it works on a number of levels. The first is the obvious commentary on the excesses of the post 9/11 response to terrorism and its threat to the freedom (and sanity) of the individual. The second is a commentary on excesses of totalitarian ideology and its threat to the freedoms (and sanity) of a society. In this respect it is far more than some kind of partisan political screed. Aldiss, being as well as a writer of science fiction, is also a notable scholar and chronicler of the science fiction genre and there is a reason his protagonist shares a name with the tragic hero of one of the classics of science fiction, Dune (and that too one that very flamboyantly deploys the vocabulary of Islam). His alter ego is named Fremant, which has the fortunate dual meaning of being Paul's "free" alter ego and also recalls the desert warrior society of the Freman in Dune, who once mobilized, wage a jihad that sweeps across the galaxy. Thus Paul, being a British Muslim contains within him a split personality (literally and figuratively), both the identity of an assimilated British citizen whose only crime is to have written a novel in the style of P. G. Wodehouse (and can there be any greater sign of Britishness than this?) and also the potential identity of a foot soldier of a culture that has become a debased, corrupted and violent shadow of itself. The duality lies not only in the individual, but also in society, for there are hints in the sfnal world that the colonists originally came from the west back on Earth and that the debased, brutal culture and polity of the colonists is descended from an Anglo-American military alliance. The circularity is clear: just as the constriction of the words and freedoms of the individual can lead to individuals with violent, nihilistic personalities, so can the abandonment of the values and freedoms of a society lead to societies with violent, nihilistic polities.