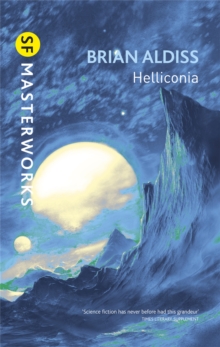 Helliconia : Helliconia Spring, Helliconia Summer, Helliconia Winter
Paperback
Description
Helliconia is a planet that, due to the massively eccentric orbit of its own sun around another star, experiences seasons that lasts eons.
Whole civilisations grow in the Spring, flourish in the Summer and then die in the brutal winters.
The human-like inhabitants have been profoundly changed by their experience of this harsh cycle.In orbit above the planet a terran mission struggles to observe and understand the effects on society of such a massive climatic impact.Massive, thoroughly researched, minutely organised, full of action, pulp references and deep drama this is a classic trilogy.
Information
Format: Paperback
Pages: 1328 pages
Publisher: Orion Publishing Co
Publication Date: 12/08/2010
Category: Science fiction
ISBN: 9780575086159
Free Home Delivery
on all orders
Pick up orders
from local bookshops
Reviews
Showing 1 - 1 of 1 reviews.
Review by ed.pendragon
16/06/2015
The Helliconian trilogy is a multi-layered composition, as long and as rich as The Lord of the Rings, as colourful as a medieval tapestry and as profound as a modern treatise on philosophy. Aldiss is a prolific author in various genres, not just in science fiction, but SF at its best can itself include a great many genres; and this trilogy therefore has aspects of romance, epic, fantasy, prose poetry and science writing all flourishing in symbiosis with each other. And, like any great narrative, it is not only a great page-turner but has you caring about its characters.Helliconia is a planet many light-years away being monitored by a manned observation station called the Avernus; perhaps significantly, the station is named after an Italian crater famed for its noxious fumes and reputed in classical times to be an entrance to the Ancient Roman Underworld, and Aldiss has borrowed the word for his own publishing imprint. Contrary to current non-interventionist ethics the Avernus can and does occasionally send down one of its inhabitants on a one-way trip to the surface of the planet; here the individual interacts briefly with the human Helliconians before succumbing to a breakdown in their own immune system. However, the Helliconian humans are largely unaware and unaffected by scientific considerations beyond their limited lives (rather like terrestrial humans in this regard), relying on religious beliefs and institutions to provide the philosophic and practical frameworks to their lives; the trilogy is in fact a thinly-veiled critique of institutionalised religions as well as superstition.The frameworks are necessary to cope with the environments they are part of, environments that bring changes in areas of climate, dominant species and fundamental human conditions. Aldiss explores ethical matters such as the misuse of political power, irrational beliefs, gender issues and the health of eco-systems abused by human rapaciousness, and all this can give pause for thought to those who are sensitive to such issues. But while this is a scientific romance we are also aware that within its narrative threads the trilogy holds up a mirror to our own experiences, cultures and passions: for me, for example, Spring, in two phases, is a story combining quest themes with re-births; Summer is a Shakespearian comedy with echoes of both A Winter's Tale and A Midsummer Night's Dream (which Aldiss read in preparation before writing); and Helliconian Winter has almost as broad a convas as War and Peace. Constantly punctuating the text are images of circularity (the Avernus, the Great Wheel of Kharnabhar, the glyph carved on the mysterious standing stones) and of the measurement of time (the hourly geyser of Oldorando, the timepiece of the Avernian traveller Billy Xiao Pin, Odim's beautiful clock), echoing the underlying cyclic nature of Aldiss' vast creation. Re-reading the three volumes a quarter of a century later I remain struck not only by the abiding and powerful images of weather and landscape but also by the captivating stories of the fragile and yet very human aliens of that world. It is a world I may yet re-visit in another quarter-century.
Also in the S.F. Masterworks series | View all