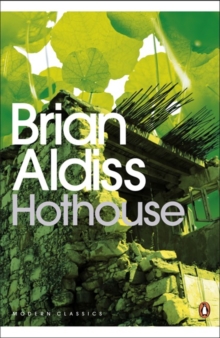 Description
The Sun is about to go Nova. Earth and Moon have ceased their axial rotation and present one face continuously to the sun.
The bright side of Earth is covered with carnivorous forest.
This is the Age of vegetables. Gren and his lady - not to mention the tummybelly men - journey to the even more terrifying Dark side.
One of Aldiss' most famous and long-enduring novels, fast moving, packed with brilliant imagery.
Information
Format: Paperback
Pages: 288 pages
Publisher: Penguin Books Ltd
Publication Date: 07/08/2008
Category: Science fiction
ISBN: 9780141189550
Other Formats
EPUB from £5.99
CD-Audio from £15.45
Free Home Delivery
on all orders
Pick up orders
from local bookshops
Reviews
Showing 1 - 3 of 3 reviews.
Review by eleanor_eader
16/06/2015
Surreal and intriguing sci-fi… I think the main thrust of the reader's interest is the world that Aldiss has created here, rather than the character's story within it, which seems more a vehicle to explore the jungle, its inhabitants, and the history of the remains of humanity rather than to tell their story which is essentially one of flight and fear. Despite this, I enjoyed it in a 'huh, quite an imagination you've got there, Mr. Aldiss' sort of way. The principal character, Gren, is allowed a little personal growth (sorry, I couldn't resist), but considering all he's gone through, is basically unchanged by the end. When the elders of his tribe 'go up' to heaven – that is, hitch a ride in airtight urns on the legs of mile-long space-travelling spider-plants, he leaves his childhood friends when his desire to lead the group is challenged, and from then on gains and loses travelling companions as he battles with the dense, dangerous undergrowth, one of which is a parasitic intelligent fungus that takes over his brain.Not my favourite sci-fi read, but remarkable for being the only one (thus far) to include birds that are actually vegetation and morels that possess people.
Review by sf_addict
16/06/2015
Hmmm, read this years ago and recently came across it as a Penguin Classics re-issue so bought it. Having finished it I can honestly say its more fantasy than SF! And the od thing is when reading it I found I didnt remember any of it,! My memories of the book went as far as kids running on a beach and finding a morel!I found the Tummy-belly men very annoying-an early publisher recommended he cut those out of the book to bring the page count down to 160. Maybe he should have!
Review by HeikeM
16/06/2015
Hmm. Not quite sure with this one. The story is completely unimportant, the main weight lies on the description of a planet earth that is unrecognisable from the one we know. The sun is dying, emitting heat and high radiation, so plants and animals have evolved/mutated into new forms and with them the human race. I was a bit annoyed with the whole thing because I read books for the story. And there isn't much of interest here. Sometimes I felt as if the author thinks us all stupid - instead of finding myself in a strange world, ready to discover all the new things I felt being lectured to. Characters kept explaining everything, which you just wouldn't do - or would you after remarking on the beauty of a tree, continue explaining the oxygen production? The book reads easy enough, the descriptions themselves are interesting and fun, but on the whole it is a tad boring.
Also in the Penguin Modern Classics series | View all