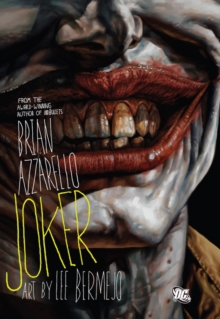 Description
Written by Brian Azzarello Art by Lee Bermejo & Mick Gray Cover by Lee Bermejo In the all-new, hardcover original graphic novel JOKER, writer Brian Azzarello (100 BULLETS) and artist Lee Bermejo (HELLBLAZER covers) - the creative team behind the acclaimed miniseries LEX LUTHOR: MAN OF STEEL - show an even darker and more disturbing side to the most dangerous man in Gotham: The Joker. After yet another stint in Arkham Asylum, The Joker finds "his city" divided among mobsters and costumed villains.
Not content to settle for a piece of the pie, The Joker vows to take back the whole damn enchilada by any means necessary.
Look for appearances by a slew of Gotham's most wanted, including gritty takes on Two-Face, Riddler, Killer Croc, Penguin, Harley Quinn and even Batman! Not since THE KILLING JOKE have you seen such a powerful tale of The Joker - you won't want to miss this one!
Advance-solicited; on sale October 22 * 128 pg, FC, $19.99 US
Information
Format: Hardback
Pages: 128 pages
Publisher: DC Comics
Publication Date: 07/10/2008
Category: Superheroes
ISBN: 9781401215811
Free Home Delivery
on all orders
Pick up orders
from local bookshops
Reviews
Showing 1 - 5 of 11 reviews.
Previous | Next
Review by Yakatizma
16/06/2015
Brian Azzarello portrays the Joker as a drug abusing schizophrenic crime boss in this organized crime inspired stand-alone tale.The over-arching plot is fairly mundane. Freshly released from Arkham Asylum the Joker sets out to reestablish his alpha criminal status amongst the rogues gallery of Gotham City. What makes this story truly compelling is that it is largely told through the character of Johnny Frost, a hired lackey and small time criminal that acts as the Joker's chauffeur. Additionally, Azzarello and Bermejo's reinterpretation of classic Gotham villains such as Killer Croc, Two-Face, the Penguin, and the Riddler compliment the gritty crime-noir tone of the story. The villains unique pathologies are preserved and even more disturbing in Azzarellos more mundane depiction of Gotham City. Gone are the brightly colored outlandish outfits and comical gags and gadgets. What you get in this story are characters depicted as regular people with serious mental disorders that place them in the ranks of the criminally insane.
Review by Rhinoa
16/06/2015
A one shot graphic novel after the Joker is proclaimed sane and let out of Arkam Asylum. Jonny Frost is sent to pick him up and quickly gets drawn into his world which clearly is not sane! Since his stink in Arkam the city has been split between the various mobsters and crime bosses and the Joker has nothing. He has returned to claim what is his and he isn't of the mind to ask nicely.A whole host of villains turn up in the story including Harlequin, Penguin, Riddler and Two Face/Harvey Dent. Batman is always in the background and only appears at the very end. The Joker makes comment though that he is always watching from the shadows. He leaves behind him a wake of death and destruction and Jonny who narrates the tale gets sucked further and further in to the madness. Dark and very well drawn. Excellent story and I loved the twisted ending which I won't spoil here. A classic and you don't need to be a Batman fan or have read any of the other graphic novels to enjoy this. Although perhaps, enjoy is not the right word…
Review by burnit99
16/06/2015
An episode with the Joker, inexplicably released from Arkham, told through the eyes of the thug who is sent by his old gang to pick him up. Joker goes on a rampage to take back his part of Gotham, crossing paths with Penguin, Killer Croc, Riddler and Two-Face. This is as penetrating a look into Joker's psyche as I have seen, at once opening new doors of perception and leaving all as much a mystery as ever. The Joker here, both in appearance and character, is much like the one portrayed in the movie with Heath Ledger, "The Dark Knight Returns". Batman does not appear until the final pages, and his appearance is both climax and anticlimax. A masterful story from Azzarello, a talent worth following.
Review by schatzi
16/06/2015
After being inexplicably released from Arkham, the Joker goes on a rampage to reclaim what he believes to be his - the money, the criminal network, and the entire city of Gotham. Along the way, a small-time criminal named Jonny becomes one of Joker's henchmen, which he realizes isn't something he should have aspired to in the first place.The Joker here is dark and insane. There is plenty of murder, theft, and rape - too much for my taste, to be honest. Azzarello does a fairly good job of getting into the Joker's psyche, showing different facets of his personality. The art is the real seller for this book, in my opinion; it fits the story perfectly. I'd almost call it beautiful if it wasn't for the fact that it's depicting so much horror.
Review by MaowangVater
16/06/2015
When Jonny Frost picks up the Joker at the gate of Arkham Asylum, he hopes to make an impression on his newly released boss, so he volunteers to help him regain control of the rackets in Gotham in this gritty and gruesome tale of crime and insanity. Also appearing in this dark saga of revenge are Two-Face, Killer Croc, Harley Quinn, the Riddler, the Penguin, and inevitably, the Batman.