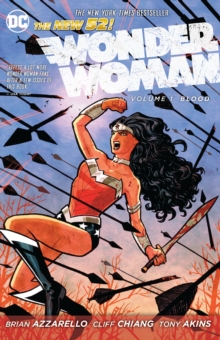 Wonder Woman Volume 1: Blood TP
Paperback
Description
Hippolyta, Queen of the Amazons, has kept a secret from her daughter all herlife - and when Wonder Woman learns who her father is, her life willshatter like brittle clay.
The only one more shocked than Diana by thisrevelation?
Bloodthirsty Hera - so why is her sinister daughter, Strife,so eager for the truth to be told?
Superstar writer Brian Azzarello creates a new direction for one of DC'sbest-known heroes, with spectacular art by Cliff Chiang and TonyAkins!
Information
Format: Paperback
Pages: 160 pages
Publisher: DC Comics
Publication Date: 15/01/2013
Category: Superheroes
ISBN: 9781401235628
Free Home Delivery
on all orders
Pick up orders
from local bookshops
Reviews
Showing 1 - 5 of 8 reviews.
Previous | Next
Review by Coach_of_Alva
16/06/2015
I hadn't read the Wonder Woman books before this reboot, which brings the Amazon back to her Greek mythological roots. Diana deals with one ancient story line, Hera going berserk over Zeus's infidelities, while, another old story, a Son God plotting to take the throne of a Father God, moves in the background. Azzarello proves himself the best kind of a hack, the kind that can make even clichés this old work both as plots and as situations to engage one's emotions. I was able to watch Diana kick ass physically without finding the fights implausible and I was able to appreciate the beauty of women without feeling embarrassed. I would say that the artists had good taste but I am afraid that in the age of Miley that would be interpreted as an insult.Of course I was also anxious to see how they portrayed the Gods. I liked some and didn't like others, and almost wished I could find an Internet site where I could argue about them. Hera was an aging blonde who seemed dull even though she was nude behind her peacock fans. Win. Hermes was a hodgepodge, green hair, cadaver skin, fowl feet, odd adornments and weapons whose significance I couldn't remember. Meh. Apollo was a charming heartless schemer with black skin and gold in his eyes. Interesting. Ares was a vulturine old man with black eyes, coming across as a scavenger more than a predator. Interesting. Strife was dressed in a fashion forward black dress and had a cruel hipster's attitude. Definite win. Lord Poseidon would have come across as a Lovecraft monster if the artists hadn't succeeded in making him seem regal. Win, but needed getting used to. Hades was a runt with candles for hair. Fail.
Review by shanaqui
16/06/2015
This was one of the first DC books I picked up, I think, but I didn't get round to it till now. I have to say I'm more fond of Batgirl -- I'm not sure this was a very good introduction to Wonder Woman. I mean, there's very little by way of explanation of her motivations going on. She just kills some stuff dead and finds out some secrets about her past.It's fun enough, and the art is good, and the mythology goes pretty well with actual Greek mythology (unlike, say, Marvel's Thor). I think the review/s that mention it being a bit like Neil Gaiman's Sandman have got something there, too.In any case, I have the second volume already, so we'll see how that goes. But I may not be buying any more Wonder Woman after that.
Review by ElizaJane
16/06/2015
I wasn't sure if I was going to read this series; I haven't been a fan of WW since the 70s version, but when Kindle had a $5 sale on Volume 1s I couldn't resist picking up the volumes of the characters in the JL and Batman Family I didn't already own. I like Greek mythology a lot so was interested to see where the new 52 would take Diana's story. This first volume is heavily mired in Greek mythology and other than Wonder Woman all the other characters are Greek Gods. I really enjoyed it. I'm not really familiar with her background story except for the Amazon/Paradise Island connection,so don't know if this whole Gods history is new or not but I looove it! Diana's family is both broken apart and expanded here while we (and she) learn the truth of her background and why she leaves Paradise Island for good. She has already taken the persona of Wonder Woman when we meet her and she goes off to be WW, no longer Princess Diana, with a current responsibility to protect a certain young human girl and in cahoots with a few of the Olympians to get back at Hera. I absolutely adore the representation of Hades, totally awesome depiction! This ends with Hades ticking WW off and the next volume promises to have WW going to Hell to face off with him, so I am definitely off to the next volume.
Review by catya77
16/06/2015
The origins of Wonder Woman/Diana are explored as well as current family tensions.Richly detailed graphics add layers to plot, action, and character development. Dialogue and narrative allow insight into plot and character as well as help build tension and intersperse humor.Without giving away too much to the story, I will just say this, it was fun to see the Greek Gods interacting.Overall, a truly fun read!
Review by LouisVillains
16/06/2015
I really liked it because, hello, Wonder Woman, but I hate that her whole origin story was changed in a way that seemed to diminish her a bit.