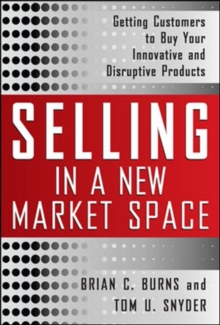 Selling in a New Market Space: Getting Customers to Buy Your Innovative and Disruptive Products
Hardback
Description
Your new product has changed the rulesof the market.
Now, you have to changethe rules for selling it . . . Providing a truly innovative product or serviceis the difference between life and deathfor companies today.
But once you've producedit, you have to answer the next bigquestion: How do I sell this unique offeringto customers who don't even know they havea need for it?Brian C.
Burns and Tom U. Snyder compared27 highly successful emerging-growth andstart-up corporations with 78 less successfulcompanies in similar fields.
The difference,they learned, lies neither with the productnor with marketing but with the sales strategy. In short, the losers relied on conventionalsales methods; the winners deployed a uniquesales strategy that focused on how organizationsmake decisions. Selling in a New Market Space helps youdevelop a sales strategy to approach potentialbuyers the right way-the first time around-using what the authors call the "MaverickMethod." This game-changing guide explains:What Maverick sellers do differently andwhy they hold the key to your successWhere to find salespeople with the skillsfor selling to a new marketHow to create early market segmentsand marginalize competitorsWhen to transition them away fromMaverick sellingDon't be a victim of your own success.
Whatgood is the product you put all that moneyinto if you can't sell it?If you want to get the most out of your innovativeoffering, you need to create a new classof salesperson.
With Selling in a New MarketSpace, you have the tool for driving your newproduct to the limits of its potential.
Information
Format: Hardback
Pages: 256 pages, Illustrations
Publisher: McGraw-Hill Education - Europe
Publication Date: 09/12/2009
Category: Sales & marketing
ISBN: 9780071636100
Free Home Delivery
on all orders
Pick up orders
from local bookshops