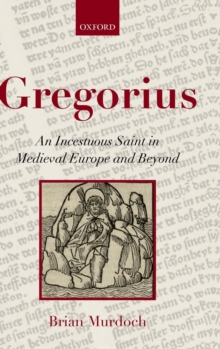 Gregorius : An Incestuous Saint in Medieval Europe and Beyond
Hardback
Description
The story of the apocryphal pope and saint Gregorius was extremely popular throughout the middle ages and later in Europe and beyond.
In a memorable narrative Gregorius is born from an incestuous relationship between a noble brother and sister, and is set out to sea with (unspecific) details of his origin.
He is found and brought up by an abbot, but when revealed as a foundling leaves as a knight to seek his origins; he rescues his mother's land from attack, andmarries her.
On discovering his sin he undertakes years of penance on a rocky islet, which he survives miraculously.
An angel sends emissaries from Rome to find him after the death of the pope, the key to his shackles is equally miraculously discovered, and he becomes pope.
This hagiographical romance isnot a variation upon Oedipus; it uses the invisible sin of incest as a parallel both for original sin (the sin of Adam and Eve) and for actual sin.
It combines the universal theme of the quest for identity with the problem not of guilt as such, which is inevitable, but of how sinful humanity can cope with it.
Brian Murdoch traces the story's probable origins in medieval England or France, and its later appearance in versions from Iceland and Ireland to Iraq and Egypt, in verse and prose, infull-scale literary forms or in much-reduced folktales, in theological as well as secular contexts, down to Thomas Mann and beyond.
Information
Format: Hardback
Pages: 286 pages
Publisher: Oxford University Press
Publication Date: 20/09/2012
ISBN: 9780199596409
Free Home Delivery
on all orders
Pick up orders
from local bookshops