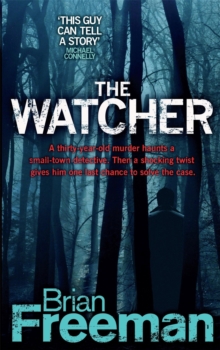 Description
Brian Freeman won the International Thriller Writers' Best Hardcover Novel Award 2013 for SPILLED BLOOD.
Lieutenant Jonathan Stride has never forgotten the case that made him decide to join the police force.
Back in the 1970s, Laura - sister of Stride's girlfriend - was murdered.
The obvious suspect was a vagrant, who slipped through the hands of the police, including Stride's detective hero Roy.
Now, though, Stride's looking at the case in a new light.
Tish Verdure, an old friend of Laura's, has come home: and she's certain that the killer was a local boy, now an attorney with connections at the highest level.
Stride's soon convinced that there was a deliberate decision to direct the investigation towards a simple solution and away from Tish's suggested perpetrator: but he's also convinced that Tish is hiding a secret about the past.
A secret that could have shattering consequences - including a second murder...
Information
Format: Paperback
Pages: 480 pages
Publisher: Headline Publishing Group
Publication Date: 01/03/2009
Category: Thriller / suspense
ISBN: 9780755335299
Free Home Delivery
on all orders
Pick up orders
from local bookshops
Reviews
Showing 1 - 1 of 1 reviews.
Review by adpaton
16/06/2015
Freeman is not for the fainthearted: his books are dark, edgy, tragic and compelling, and improve with every new title. This Watcher, his fourth novel, is no exception as we follow the further adventures of Lieutenant Jonathan Stride. Despite his unsettling content, Freeman writes with an almost English sense of domesticity: characters are nuanced and well-rounded, seldom simply black or white, and his setting – Duluth on Lake Superior in Missouri, a welcome change. Jonny Stride was devastated when his teenage sweetheart and wife died of cancer five years ago, but for the last few years he has a new woman in his life, the gorgeous former cop turned PI Serena Dial. As readers of his previous books know, the relationship has been fraught but, after several bumpy episodes Serena and Joe have returned to Duluth, he is back in the police force and re-united with his Asian-America detective partner Maggie, and all appears to be plain sailing. Until Tish Verdure, the spitting image of his late wife Cindy, makes an appearance and informs him she needs his help: she is writing a book about a 30 year old murder, that of Cindy's older sister Laura.Tish claims to have new information but while Jonny is reviewing the case and investigating her leads, Maggie is busy with the issue of a peeping tom, targeting teenage blondes. When one of the victims, a mentally retarded teenager, drowns while trying to escape her 'watcher', Maggie takes the death very seriously. Cold cases stories are always intriguing – finding the answer to a perplexing puzzle satisfies that higher part of the mind that makes us uniquely human and programmed for impartial intellectual curiosity. Our baser instinct, just as much a part of us although not uniquely human, is our desire for revenge, for punishment and retribution. Solving and intellectual riddle is one thing – far more emotionally rewarding is pointing the finger at a living miscreant and actually seeing him suffer for what he has done. The Watcher is full of the sort of sexual perversity those of us who have read deliverance expect of small-town America: incest, rape, parental sexual abuse, paedophilia, voyeurism, dark secrets and twisted, abnormal desires. Add racism, intolerance, ignorance and corruption to the mix and it is no wonder the result is murder: it might have taken place 30 years previous but many of the elements are still in place, and the killer has never been found. It sounds drear and tortured enough to be Russian, deep as the waters of Lake Superior, gloomy and forbidding as the Missouri woods: the bare bones of the story alone are harrowing enough to make this a literary novel instead of a mere thriller. Freeman is not a feel-good writer but his intention is to provoke thought and shudders in equal measure, not to plunge the reader into existential depression, and he is very good at what he does. Well plotted and nicely paced, the Watcher is a fine example of good, old fashioned story telling, not dependent on the tiny chapters and radically different points of view too many writers employ, like a TV soap, to engage our interest. It kept me guessing until near the end, and the end satisfies that part of us which eschews the bible – Vengeance is Mine, says the lord – and prefers payment in blood. Be warned however that there is a lot to avenge, and a lot of blood. I repeat, Freeman is not for the faint-hearted….