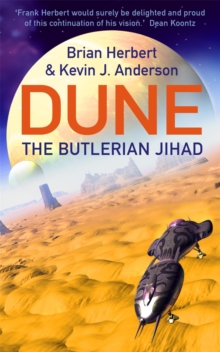 The Butlerian Jihad : Legends of Dune
Paperback
Description
It began in the Time of Tyrants, when ambitious men and women used high-powered computers to seize control of the heart of the Old Empire including Earth itself.
The tyrants translated their brains into mobile mechanical bodies and created a new race, the immortal man-machine hybrids called cymeks.
Then the cymeks' world-controlling planetary computers - each known as Omnius - seized control from their overlords and a thousand years of brutal rule by the thinking machines began.
But their world faces disaster. Impatient with human beings' endless disobedience and the cymeks' continual plotting to regain their power, Omnius has decided that it no longer needs them.
Only victory can save the human race from extermination.
Information
Format: Paperback
Pages: 624 pages
Publisher: Hodder & Stoughton General Division
Publication Date: 01/04/2003
Category: Science fiction
ISBN: 9780340823323
Free Home Delivery
on all orders
Pick up orders
from local bookshops
Reviews
Showing 1 - 4 of 4 reviews.
Review by prof_brazen_guff
16/06/2015
As mentioned by another reviewer, Anderson and Brian Herbert are certainly not authors of the calibre of Frank Herbert. They shouldn't be criticised for this however, because few are. Also, as a huge fan of Dune, there was much in these prequels for me to enjoy.
Review by penwing
16/06/2015
This whole series (Legends of Dune) was awful. Flat characterisations with only one characteristic. Twists to the plot with had no foreshadowing and made no sense. I only battled my way through because I had bought them. It's put me off the two authors.
Review by ennui2342
16/06/2015
As other reviews have stated, this is not the most well written of books, and some of the plot holes are pretty hard to ignore. In particular the behaviours of the machine overlords and the idea that humans, reduced to slave status, would have any impact is a stretch. This kind of scenario has been done much better elsewhere.However, this is the world of Dune and for those who loved Dune as kids, as I did, you'll find it easy to forget the difficulties with the novel and just enjoy the exploration of the Dune back-story and the origins of the complex society that Herbert described. For that alone it is well worth a read of any Dune fan, and I for one will happily work my way through the whole series.
Review by Michael.Rimmer
16/06/2015
Something of a disappointment, to say the least, when compared with the original Dune saga by Frank Herbert. There is little of Herbert Snr.'s subtlety and complexity here, and it really does seem to be more of a cashing in on the affection in which the original books are held.<br/><br/>That said, it is a workmanlike space opera which is fine as a book to take to the beach: read it, donate it to a charity book shop. (And yet I have kept my copy - damn you, OCD hoarding disorder!)<br/><br/>19/09/10: Need more space on the bookshelf, so this book and I have finally parted company. It's a moment of personal growth!