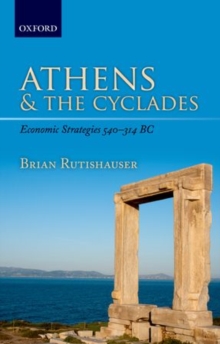 Athens and the Cyclades : Economic Strategies 540-314 BC
Hardback
Description
In Athens and the Cyclades: Economic Strategies 540-314 BC, Brian Rutishauser examines the history and economy of the island region known as the Cyclades during the late sixth to late fourth centuries BC.
While certain aspects of geography in the Cyclades remained constant through ancient Greek history, the islanders were able to adapt to changing conditions and to changing hegemony imposed from outside the region, in order to increase economic prosperity. By the time of the Persian Wars many of these islands had their own naval forces, coinage, and monumental architecture.
During the fifth century Athens established a naval hegemony over the region, which put an end to these practices.
Until the Peloponnesian War, the Athenians maintained stability but redirected wealth generated from commerce and the export of local island products through the payment of tribute and other forms of taxation.
The end of the Peloponnesian War saw a period ofSpartan rule, followed by a resurgence of Athenian power and a period of shifting hegemonies.
During the second half of the fourth century, many of the Cyclades renewed local monumental construction and the issue of local coinage.
The Cyclades may have prospered during this period due to their mutualeconomic interests with Athens, a symbiotic relationship which persisted after the collapse of the Second Athenian League to the end of Athenian control of the temple of Delian Apollo.
Information
Format: Hardback
Pages: 322 pages, 5 maps
Publisher: Oxford University Press
Publication Date: 31/10/2012
Category: Ancient history: to c 500 CE
ISBN: 9780199646357
Free Home Delivery
on all orders
Pick up orders
from local bookshops