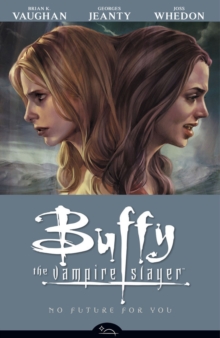 Buffy the Vampire Slayer Season 8 Volume 2: No Future for You
Paperback
Information
Format: Paperback
Pages: 320 pages, 1 Illustrations, unspecified
Publisher: Dark Horse Comics,U.S.
Publication Date: 27/05/2008
Category: Horror & ghost stories
ISBN: 9781593079635
Free Home Delivery
on all orders
Pick up orders
from local bookshops
Reviews
Showing 1 - 5 of 21 reviews.
Previous | Next
Review by arsmith
16/06/2015
yess! it just gets better as you go along. read if you like vaughan and/or the runaways, buffy the series, angel, all the scoobies, etc. and i loved buffy's little surprise in what issue was it, 12? indeed.
Review by Rhinoa
16/06/2015
Buffy and the gang are back in the continuation of Series 8. Faith is employed by Giles to go after a rogue Slayer, one who is abusing her powers and hell bent on killing Buffy and taking charge of all the new Slayers. She has the help of a magician working for Twilight. To do this Faith must infiltrate her life and as she is part of the British aristocracy Faith must learn how to conduct herself in high society. A new ball gown is in order as well as etiquette lessons from Giles. Looks like he has his work cut out for him...Buffy and Willow go on their own quest against Twilight. They seek advice from a demon who shows them some of the lies they have been telling each other and themselves. Seems the Slayers have been getting money from an "annoymous" benefactor and Willow is shocked to learn the truth. The relationship between Willow and Kennedy is also explored further.A fun addition to the series, I really like Faith and always thought she got a rough deal with everyone loving Buffy best. I will be interested to see how her storyline intertwines with Buffy's who has major reasons for not trusting her (and vice versa, there was the stabbing incident after all).
Review by francescadefreitas
16/06/2015
Oh, this just gets better and better! Faith and Giles, Buffy and Willow, even Dawn, everyone is living in the grey bit of the right/wrong spectrum.The big story in this collection follows Faith - unsurprisingly the destruction of Sunnydale didn't wipe her slate clean. Before she falls into the role of garbage collector, taking the jobs that are too nasty for the new slayer brigade, Faith has to decide what she believes in and who she will be in this new world of war. Awesome!
Review by craso
16/06/2015
Faith and Giles work together to stop a high born British slayer and her Irish warlock from killing Buffy in this second installment in the Buffy The Vampire Slayer Season Eight series. These characters are two of my favorites. Putting together the Rouge Slayer and the Watcher was a great idea. They are total opposites so the story becomes part My Fair Lady and part The Avengers.There is a "one shot" story at the end of No Future For You called Anywhere But Here. In this story we learn why we haven't seen Willow's girlfriend Kennedy and why Dawn is gigantic. A lot of subplot is covered in a few pages and helps to advance the action to the next story arc.
Review by Runa
16/06/2015
Whoaaa. So much worse than the first one, what happened? The only story I actually enjoyed was, surprise, Dawn's, of all peoples, and even there we got basically nothing. I said for the first one that it was just "how much skin can they show", but WHOA, did they push it further this time, to the point of disturbingness. I'm sorry, I'm not reading these for that, or for the action, I'm looking so very hard for plot and I can't find any. This is so unreal. Faith is with Giles all of a sudden, and Buffy is not. Willow is horribly un-Willow, Buffy barely has a role, Xander and Dawn are the only ones with a good story but it's not being told. There's nothing interesting happening. I kind of hate this. I want my old Buffy back!