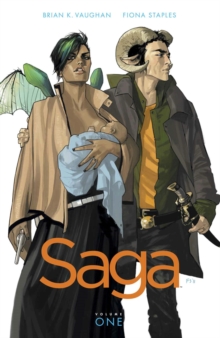 Description
Winner of the 2013 Hugo award for Best Graphic Story!When two soldiers from opposite sides of a never-ending galactic war fall inlove, they risk everything to bring a fragile new life into a dangerous olduniverse.
From New York Times bestselling writer Brian K. Vaughan (Y:The Last Man, Ex Machina) and critically acclaimed artist FionaStaples (Mystery Society, North 40), Saga is the sweepingtale of one young family fighting to find their place in the worlds.
Fantasy andscience fiction are wed like never before in this sexy, subversive drama foradults.
This specially priced volume collects the first six issues of the smash-hitseries The Onion A.V.
Club calls "the emotional epic Hollywood wishes it couldmake."Voted one of the top graphic novels of the year by the NYT, IGN,the Examiner, and SF Weekly.
Voted Best Comic of the year by MTV Geekand Best New Series by Paradox Comics.
Voted a finalist in the GoodReads Best GNof 2012 contest.Named one of Time Magazine's top 10 graphic novels for2013
Information
Format: Paperback
Pages: 160 pages
Publisher: Image Comics
Publication Date: 23/10/2012
Category: Science fiction
ISBN: 9781607066019
Free Home Delivery
on all orders
Pick up orders
from local bookshops
Reviews
Showing 1 - 5 of 83 reviews.
Previous | Next
Review by LoveyDoveyBooks
16/06/2015
Saga, Volume 1 is a collection of the first six stories in the Saga series. Brian K. Vaughan's brilliant storytelling, backed up by the bold artistry of Fiona Staples, offers adult readers an entertaining and impressive graphic novel. As the drama unfolds, Vaughan's fans will come to appreciate the depth of the plot and the well-rounded characters that take us on a journey bursting with unexpected twists and outcomes.Alana and Marko's story feels like it could have been adapted from a hardcore, science-fiction version of Shakespeare's Romeo and Juliet. Alana and Marko are each from the opposing sides in an outrageous war that's expanded across the universe. Saga opens with the birth of their mixed-breed daughter; with wings from her mother and horns from her father. Aside from the opening scenes, the story is already taking a direction that show how far from ordinary it'll be. The narration sounds like it might be a third person omniscient point of view from someone with no ties to the main characters, but in reality, the narration is that of someone who is right in the middle of all the action. Hazel tells us the story of her birth and guides readers through the history of Alana and Marko's world. It was quite a surprise to recognize who the speaker is, but she bridges the story's subplots together so that the end result is smooth and tinged with chilling forewarning.An enormous reason why Saga drags you in and keeps you reading is because Vaughan creates a versatile dialogue. The dialogue captures each character's personality well, whether they fall along the lines of sarcastic, hateful, or pleasant. The illustrations were drawn with no limits so you never know what you might see next, but even Staples captures the danger, the tense moments, and character reactions impeccably. The characters' body language is very well in sync with their thoughts that sometimes you may not even need thought bubbles to get the sense of their next move.Saga is a story strictly written with an adult audience in mind. The language, the nude scenes and how the violence is depicted do not make for a story suitable for teens and younger. I thought the violence was slightly icky because you actually see the effect of someone being struck and afterwards when they're fatally injured, but it didn't completely turn me off from the story itself. I wouldn't recommend Saga to the more reserved readers or those who are relatively squeamish.Saga continues soon in Saga #7, and I'm so eager to see what awaits Alana and Marko. Brian K. Vaughan and Fiona Staples have created a dynamic series that will definitely come as a surprise and entertaining treat to readers!
Review by leirali
16/06/2015
There are a lot of writers I love, but only a few that I go TOTALLY FREAKIN' WILD FOR. Brian K. Vaughan is one of those writers. And I cheered -- quite literally and loudly -- when I found out that he was returning to comics. When I found out the plot of this new series -- star-crossed lovers from warring nations running for their lives ... IN SPACE -- I cheered some more. This is a story that I had no idea that I desperately wanted to be told."Saga" is so wonderfully bizarre, eye-poppingly dirty, and fantastically intense. I love that our two lovebirds, Alana and Marko, feel like real people with a rich history as a couple and as individuals. Vaughan's dialogue, as ever, is unique which serves his story and draws the reader in. The politics, the war, the royal robots, the bounty hunters, the people and races we meet (LYING CAT! GHOSTS! MAGICIANS! UNICORN-LADY!), and the, um, let's say, DIVERSITY of the planets are all rich amazing threads that would turn into a knot in another writer's hands. Vaughan has created an epic world that sprawls galaxies and takes you along for the ride on magical tree spaceships.
Review by leesalogic
16/06/2015
This is a really great, disturbing, imaginative story with fantastic, weird, disturbing art and concepts. We've got one world with animalistic, magic-using beings. We've got another world, more technologically minded, with royalty that have CRT monitors for heads, and everyone else with wings. There's mercenaries ("freelancers"), ghosts, cats that detect lies, wooden rocketships.Vaughn and Staples don't hide anything in their story. Some of it is disturbing. Some of it is beautiful. Some of it is disturbingly beautiful: that spider-lady freelancer; the Sphynx lying cat; the ghost girl with her entrails hanging down from her upper body). There's sex, nudity, toilet sitting (by a royal, no less), child slavery, wholesale slaughter and destruction of planets/moons, and right there on the cover, we have the baddest woman of all, breastfeeding her baby and holding a gun. YEAH!The lettering is fantastic. I love when the fonts and colors change depending on who is speaking. The narrator is the baby and her story is scrawled freely on the panels--unrestrained by text boxes. The royal monitorheads speak in that computery type font like Console or Symbol (I am not a typographer, don't mock me). When Marko speaks in his native language (Spanish?), the font color is blue. Ghost girl speaks in red.Really great story.I find reading comics to be confusing sometimes, especially superhero comics. The scene changes aren't always obvious, there's not really a lot of exposition or dialog to make things clear, and I'm left looking at a lot of colorful action shots but not always knowing what's really going on other than a lot of fighting. Saga is definitely NOT one of those kind of comics. Everything is explained, and any surprises are shared by the characters, so I don't feel like I'm the only one missing part of the conversation. And the baby in the last few panels is ADORABLE. Can't wait to see her grow up.
Review by ElizaJane
16/06/2015
Reason for Reading: I'm finding myself more pulled towards sci-fi than fantasy in my graphic novel reading and this sounded both fresh and involved.Love, love, love this book. An incredible story. One that is intricate, involves many levels, plots, characters and yet it all centres around the two main characters, an interspecies couple who has wed and born a child together. Their species have been at war with each other for what may as well have been forever and yet these two are unique examples of "people" not defined by species alone. Taking the race card one step further into species we see the same old bigotry being played out on a grander scheme as one species believes it is of an higher order than an other. What I particularly love at this point is how incredibly life affirming the context is. Having children is not exactly something encourage in this society, especially girls, but this couple affirms their love by having a child and later on in the book another (different species) couple find out they are pregnant and the issue is brought up whether the husband is happy, and won't mind even if it is a girl. He responds positively. The sex trade involving children is examined and the most unlikely of characters becomes a little girl's rescuer and advocate. I love the two main characters, they are both upright people and yet their personalities and morals are different, sometimes clashing.For warning, the book does include coarse language, not every page but frequent enough. I found it acceptable for the characters using it. There is full frontal nudity of both sexes, even though they aren't all "human", yet I was pleased that these scenes were at least between married couples. The art is stupendous. This is my first introduction to Fiona Staples but I will be watching for her name in future. Her drawings are realistic and she brings humanity to her non-human subjects as well as presenting simply stunning panels. Her character's facial expressions are able to say so much more than words ever could. A brilliant new series, that I am anxious to follow up with.
Review by jasonlf
16/06/2015
Saga is a new monthly comic book, with this collection containing the first six issues (or "chapters" as they are labelled). The Saga continues, so to speak, so one cannot make a final judgment. But the beginning is promising, creating a science fiction world where two soldiers from opposing sides in an epic war fall in love, have a child, and then are on the run from the various nefarious forces from both sides trying to capture and kill them. The war is between a winged people resident on a plant and a horned people resident on its moon and is carried out by proxy throughout the galaxy. A various cast of royal robots, bounty hunters, ghosts, and the like creatively populate it. It is well drawn, each chapter ends on a cliffhanger, and the creative ideas keep coming. And it is very fast reading. I look forward to seeing where it is going in future volumes.