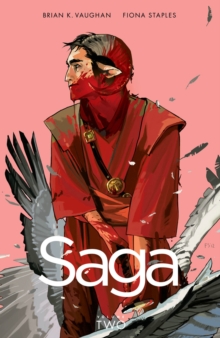 Description
The smash-hit ongoing epic continues! Thanks to her star-crossed parentsMarko and Alana, newborn baby Hazel has already survived lethal assassins,rampaging armies, and alien monstrosities, but in the cold vastness of outerspace, the little girl encounters something truly frightening: hergrandparents!Named one of Time Magazine's top 10 graphic novels for2013
Information
Format: Paperback
Pages: 144 pages
Publisher: Image Comics
Publication Date: 02/07/2013
Category: Science fiction
ISBN: 9781607066927
Free Home Delivery
on all orders
Pick up orders
from local bookshops
Reviews
Showing 1 - 5 of 28 reviews.
Previous | Next
Review by BenjaminHahn
16/06/2015
The second volume in this awesome series. The reader is treated to a couple flashbacks including one really funny post-coitus conversation between Marko and Alana. Same great art, writing, and flow. I am really looking forward to the next volume.
Review by fyrefly98
16/06/2015
Summary: Hazel is the child of Marko, a native of the magical moon Wreath, and Alana, a native of the planet Landfall, which has been at war with Wreath for as long as anyone can remember. The war has spread across the galaxy, but some people - Alana and Marko included - have begun to dream of something else. By falling in love with each other, deserting their posts, and daring to have a baby, they have made themselves targets for the forces of both sides of the conflict. They have managed to flee the planet on which Hazel was born barely a step ahead of the bounty hunters and assassins sent after them, by means of a magical tree-rocket. But their pursuers are the least of their problems, because just as they think they've escaped, Marko's parents show up on board, and they're none too pleased that he's been consorting with the enemy.Review: Aaaaaahhhh this series is so good! It is creative and interesting and original and funny as hell and with a surprisingly sweet heart underneath despite some crude imagery and occasionally pretty gory violence on top. I already loved Alana and Marko from the first volume, and in this one, we get further into their backstory, particularly their strange courtship in the POW camp where Marko was imprisoned. I also really quickly fell in love with Marko's father from just the few short scenes of him alone with Alana and Hazel. The universe that the characters inhabit is also very cool, and Vaughan is good about continuing to expand that universe, and add in new elements, without it seeming arbitrary or like info-dumping. Vaughan also continues to do a great job balancing the main plot, the subplots (primarily that of the reluctant bounty hunter, The Will), and the backstory, keeping everything moving without it ever feeling like it's gone off-topic. Staples's artwork is also amazing; she's great at capturing character and expression and is probably a large part of the reason I like Marko and Alana so much, but her backgrounds and landscapes and larger paintings are also gorgeously evocative.Worst part about it? Is that the next issue was only published a few weeks ago so I probably won't get the next trade paperback volume for months if not years. And aaaargh, I know it's my own fault for getting involved in a new series this awesome as it's still being published, but still. 4.5 out of 5 stars.Recommendation: Same as for the first one: Not – repeat, NOT – for the kiddos. There's swearing and violence and some graphic sex. But for grown-ups, it's fun and interesting and strikes an awesome balance between character and worldbuilding, and it's not quite like anything I've read before, and I think it should be appealing to most fans of sci-fi/fantasy.
Review by amobogio
16/06/2015
The 2nd volume of Saga is better than the first. Not sure how Vaughn and Staples improved on the pure joy of V1, but they did.
Review by JWarren42
16/06/2015
What I love most about the story is how old-school Sci Fi it is. This story could easily have come out from golden age Astounding. The art is really incredible, as well. Just about as high quality as a comic can get. HIGHLY RECOMMENDED.
Review by Bert.Cielen
16/06/2015
I would have loved to have given this five stars. But the book just never felt as if it deserved that score. Four point five, yes -- but five, no.<br/><br/>At times it is "amazing" (as the fifth star is supposed to indicate); both story and art are amongst the best, and this comic continues to surprise and mesmerize. Yet parts of it felt mundane, as if the creators were too concentrated on getting somewhere and forgetting that the road taken is a significant part of the experience. Several times a problem was solved with a predictable solution which then resulted in an almost cliché resolution.<br/><br/>But don't get me wrong: this is a must-read.