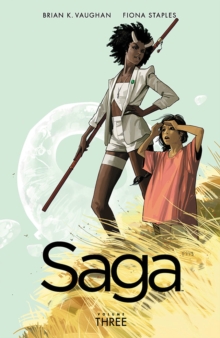 Description
Winner of the 2013 Hugo award for Best Graphic Story!
When two soldiers fromopposite sides of a never-ending galactic war fall in love, they risk everythingto bring a fragile new life into a dangerous old universe.
From New YorkTimes bestselling writer Brian K. Vaughan (Y: The Last Man, ExMachina) and critically acclaimed artist Fiona Staples (MysterySociety, North 40), Saga is the sweeping tale of one youngfamily fighting to find their place in the worlds.
Fantasy and science fictionare wed like never before in this sexy, subversive drama for adults.In volume 3, as new parents Marko and Alana travel to an alien world tovisit their hero, the family's pursuers finally close in on their targets.
Information
Format: Paperback
Pages: 144 pages
Publisher: Image Comics
Publication Date: 25/03/2014
Category: Science fiction
ISBN: 9781607069317
Free Home Delivery
on all orders
Pick up orders
from local bookshops
Reviews
Showing 1 - 5 of 20 reviews.
Previous | Next
Review by fyrefly98
16/06/2015
Summary: Marko and Alanna, along with their new baby, Marko's mother, and their ghostly babysitter, land their ship on Quietus, the home of their favorite author, D. Oswald Heist, who wrote the book that inspired them to imagine peace between their two races, but what they find is that he is not exactly what they expected. Meanwhile, the various people pursuing them, including the Robot Prince, and the team of The Will, Gwendolyn (Marko's ex-girlfriend), and the rescued slave girl, all start to close in on Quietus as well.Review: Saga just continues to be amazing. I was originally a little thrown by this volume - maybe it matters less in single issue, but there's a jump backwards in time between the end of Volume 2 and the beginning of Volume 3, such that at least half of this one is explaining how things got to the state they're at at the end of the previous one. As I said, this threw me off initially, but one I got my bearings, the story was great. But even better than the story is the characters. I love pretty much every character in this story; they're all trying so hard to do what they think is right in a totally screwed-up world that you can't help but root for them. And it's equally impressive how Vaughan and Staples manage to make them so complex, and interesting, and believable, in such a short space. There's one one-page scene in particular that grabbed me in this volume, between Lying Cat (who's been a favorite since the beginning) and Sophie, the former slave girl, that really exemplified how much emotion they can pack in to five panels and a handful of dialogue. This story is so good, funny and touching and the artwork is just gorgeous, and I can't wait to get my hands on the next volume. 4.5 out of 5 stars.Recommendation: Don't start anywhere but at the beginning, but Saga is definitely a series that I think anyone who likes fantasy/sci-fi comics should be reading. Highly recommended.
Review by wyvernfriend
16/06/2015
I enjoyed the end of the series, a wind up of the story leaving potential future story possibilities. It's an interesting story, with characters in a Romeo and Juliet style situation only without the suicide and with a child.Interesting story about people, prejudice and love conquering all.
Review by BenjaminHahn
16/06/2015
The third installment in this great series. It's funny, fresh, and sad. I've gotten a lot of friends who don't even like graphic novels to read this and they love it. I think Vaughan gets the parental relationships exactly right. The conversations between Marko and Alana seem very much like the conversations you hear amongst your parent friends. I look forward to reading this series for some time to come.
Review by nbmars
16/06/2015
I loved the first two volumes of this graphic novel series and the third does not disappoint in the slightest. As I noted in my review of the other books..."This is a series in which the females are all formidable, amazing, powerful and tough, and the guys are sensitive, nurturing, and have "an appalling sense of moral relativism." And that's just one of the entertaining aspects of this remarkably creative and at times hilarious collection."The story is told from the point of view of Hazel, who is born at the beginning of the series. Her parents, Marko and Alana, are of two different and warring species, but they have defied convention (and law) by falling in love. Now they must live on the run, as members of both species want to kill them and their child, because showing that the war might not be necessary would be anathema to each side. They are accompanied on their flight by Marko's recently widowed mother, and by Hazel's nanny, the spirit Izabel.In alternating chapters, we follow the adventures of some of the mercenaries who are chasing Marko and his family, including a killer for hire named "The Will" - now collaborating with Marko's ex-girlfriend Gwendolyn, a wild cat who can distinguish lies from truth, and an orphan girl who is tagging along with the three of them.A new subplot involves a pair of journalists investigating the Alana story for the tabloids.In the most entertaining part of the book (at least for book lovers), Alana and Marko travel to the planet of Quietus, seeking out one of Alana's favorite authors, who has written about inter-species love. Alana is hoping he will be able to offer some guidance on how they can make sure Hazel can survive. (Readers will love the bit when Marko asks the author what his next book will be about, and Alana, covering her ears, screams "NO SPOILERS!")Hazel cherishes the time they spend with the author, surrounded by books and adults who want to read to her. But they are marked for death, and must keep going.The illustrations by Fiona Staples are incredible - creative, expressive, and full of meaning that adds layers and implications far beyond the word bubbles. Vaughan's dialogue is clever, satirical, and engaging, but Staples adds pure genius to the finished product.<strong>Evaluation:</strong> This fun, savvy, snarky series has it all - heart, heartache, compassionate love, romantic love, sympathy for any who have suffered for any reason across the spectrum of life forms, and plenty of violence and sex spicing up the action. (I wouldn't suggest it for kids.) Ordinarily I am not so taken with graphic novel series, but I think this one is terrific.
Review by -Eva-
16/06/2015
The family stays at D. Oswald Heist's lighthouse and plans are made for the future; Slave Girl, The Will, Lying Cat, and Gwendolyn get into unexpected trouble in their hunt for the family and have to change priorities fast; and Prince Robot IV's brain reboots, sending him off to somewhere - we do not yet know where. This is turning out to be one of the best comics I've read in a long time (and I've read some really great ones recently) with winding plot line and excellent character- and world-building. Only wish I had started reading this later so that I wouldn't have to wait for the next volume to be published.