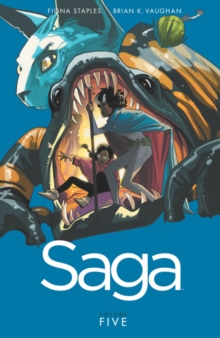 Description
Multiple storylines collide in this cosmos-spanning new volume.
WhileGwendolyn and Lying Cat risk everything to find a cure for The Will, Marko makesan uneasy alliance with Prince Robot IV to find their missing children, who aretrapped on a strange world with terrifying new enemies.
Collects Saga #25-30.
Information
Format: Paperback
Pages: 152 pages
Publisher: Image Comics
Publication Date: 15/09/2015
Category: Space opera
ISBN: 9781632154385
Free Home Delivery
on all orders
Pick up orders
from local bookshops
Reviews
Showing 1 - 3 of 3 reviews.
Review by lycomayflower
10/11/2015
This comic books series continues to be really excellent, with compelling artwork, intriguing storylines, and complex characters. I don't really have anything more to say except that the whole series is absolutely worth checking out.
Review by melissarochelle
27/01/2016
Read from October 19 to 20, 2015The artwork is what keeps this volume at 4 stars, the story moved a tad too slow for me. There was some progress: a few reunions, a few seperations, some anger, some death, some weird dragon self-love. At least three different storylines that (at times) were a lot to keep up with. Before the next volume is published, I'm gonna have to revisit vols 4 & 5 to keep it all straight.
Review by All_Hail_Grimlock
10/11/2015
Love this series so much!7:55 pm 26 October 2015Saga, Volume 5 - Fiona Staples, Brian K. VaughanI continue to love this series. I may just end up buying these on Comixology, despite the fact that I got this collection from the library: I saw it and snapped it up. I own some of these issues, but not all of them. And reading this, I was reminded of why I love this series so much. There's a lot here: it's about war, specifically the effects of war on the psyche although it also touches on what it does to nations, as well as family, loyalty, and... there's just too much to me to list. It's mind-boggling all the themes Vaughan manages to put into such a slim volume, and Staples doesn't slouch on the art. It's not only gorgeously illustrated, each panel compliments the feel that Vaughan is going for perfectly. Dengo and Prince Robot IV were my favorite characters, although I especially appreciated that Marko and IV were forced to work together: the same man had both their children, and although they despised each other, they knew they needed one another to find Hazel and the princeling. In other words, this was perfect, using every narrative trick it could to its fullest potential. I'm only sorry that issue thirty one hasn't come out yet: I'm willing to wait because the quality is just amazing enough to be worth the wait, but I'd still love to see more immediately.