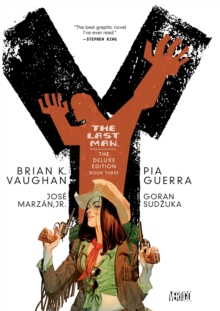 Y The Last Man Deluxe Edition HC Vol 03
Hardback
Description
Advance-solicited * On sale April 21 * 320 pg, FC, 7.0625" x 10.875", $29.99 US * MATURE READERS Written by Brian K.
Vaughan * Art by Pia Guerra, Goran Sudzuka and Jose Marzan Jr.* Cover by Massimo Carnevale In this collection of issues #24-36 of the Eisner Award-winning series, Yorick's unbalanced sister Hero tracks him to San Francisco, only to find that he has seemingly succumbed to the male-killing plague.
Information
Format: Hardback
Pages: 320 pages
Publisher: DC Comics
Publication Date: 21/04/2010
Category: Comics and Graphic Novels
ISBN: 9781401225780
Free Home Delivery
on all orders
Pick up orders
from local bookshops
Reviews
Showing 1 - 4 of 4 reviews.
Review by level250geek
16/06/2015
While this book dabbles in the adolescent fantasy that it tries so very hard to avoid being, it's a smart and engaging look at a world without men. Yorick Brown is the very definition of an everyman. Bumbling, clueless, whiny, and more than a little scared, he's not hero material but he still knows when to do the right thing. It's not a fun book, but it has all the elements of a good, rousing action-adventure, giving the reader a combination of smarts and excitement rarely seen in comics.
Review by burnit99
16/06/2015
From Book 5: Yorick meets another Beth, and for the first time is unfaithful to his fiancee. Hero, plagued by ghosts of her past, catches up with Yorick, 355 and Dr. Mann, and the hatchet is buried. A ninja kidnaps Ampersand after Dr. mann realizes that Ampersand is the reason Yorick survived the genocidal plague. As always, this is quite an impressive graphic novel series, for the quality of the writing and the epic ambition of the storyline. Darkly wry humor and decent artwork round out the high points. Only downside so far is that the women tend to look alike, especially the two Beths. Minor quibble.From Book 6: Yorick, 355 and the Doctor end up in the middle of an ocean territorial dispute between the merchant ship (running heroin) that they're on, and a submarine from the Australian navy. The ship is sunk by torpedo, and Yorick ends up on a lifeboat. In other news, the Israeli operative Alter who has been trying to capture Yorick for her country escapes from her court-martial, 355 and Dr. Mann (almost) have a lesbian encounter, Yorick (almost) has sex with the captain of the Whale, and in Australia Beth has a vision-dream that Yorick is still alive.
Review by renrav
16/06/2015
The story is really picking up and I'm halfway done with the series. Not going to lie, the reveal of why Dr. Mann thinks Yorick survived the disease was a let down. Maybe something else will develop? Also I do not like how Yorick keeps hooking up with a girl in every city. At least we finally saw Beth again.
Review by -Eva-
16/06/2015
In a skirmish with Setauket Ring agents, Yorick loses his magic shop engagement ring and seemingly falls victim to the plague, but another twist in the tale takes him, 355, and Dr. Mann across the Pacific in order to recover Ampersand. I was a bit wary of this since I have read something else by the author that I didn't care for at all, but with recommendations coming at me from all directions, I thought I should at least give one a try and I wasn't disappointed at all. There is, of course, a multitude of things to be said about an all-women society depicted by a male author, but I'm going to leave that to those more interested in gender issues than me. The dystopian angle is what I really liked, particularly the issues of day-to-day living. There are a couple of things that irked me slightly, but it's absolutely a series I plan to continue. The "Deluxe" versions of these books include two of the collected volumes as well as the script for one of the issues.