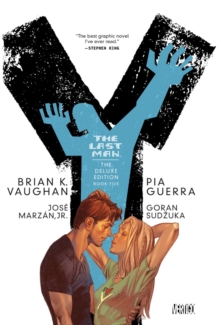 Y The Last Man Deluxe Edition HC Vol 05
Hardback
Description
Written by BRIAN K. VAUGHAN Art by PIA GUERRA, GORAN SUDZUKA and JOSE MARZAN JR. Cover by MASSIMO CARNEVALE In this final Deluxe Edition hardcover collecting Y #49-60, Yorick and Agent 355 prepare for their ultimate quest to reunite the last man with his lost love, while the person, people or thing behind the disaster that wiped out half of humanity is revealed.
Then, Yorick Brown's long journey through an Earth populated only by women comes to its dramatic, unexpected conclusion. On sale APRIL 27 - 320 pg, FC, 7.0625" x 10.875" - MATURE READERS
Information
Format: Hardback
Pages: 320 pages
Publisher: DC Comics
Publication Date: 27/04/2011
Category: Comics and Graphic Novels
ISBN: 9781401230517
Free Home Delivery
on all orders
Pick up orders
from local bookshops
Reviews
Showing 1 - 3 of 3 reviews.
Review by zzshupinga
16/06/2015
This is the 5th, and last, collected volume of one of the greatest illustrated series ever written "Y the Last Man," and I can't imagine a better ending. We rejoin Yorick, Agent 355, Ampersand, and Dr. Mann as they continue their quest to find Yorick's missing girlfriend and discover a way to preserve the human race. And along the way old friends rejoin the group as the final truth is revealed. Our characters have grown as we've traveled around the world with them and now we discover secrets to their past that have direct bearing on the present condition the world finds itself in. And the mysterious ninja that's been trailing the team? We find out who she is and who she works for. And Yorick may not be the last man left alive after all.I really want to say more, but I don't want to spoil the ending because I'm not sure its one that anyone would have predicted. And its powerful. Just like in all good stories we have to say goodbye to some of the characters we've grown to know and love. The writing is at its absolute best in the series and Brian doesn't disappoint. He keeps us on the edge of seats constantly turning the page to find out what happens next. And in some places you can't help but be moved as he stirs powerful emotions as we witness what happens to our favorite characters. And Pia's artwork is as fantastic as it was in the beginning. Its a great last volume and an exciting epic conclusion to one of the most powerful stories ever told.
Review by burnit99
16/06/2015
Allison's father captures Yorick and crew, revealing himself as the cause of the gendercidal plague (although this still doesn't make sense to me). The team separates, with 355 and Yorick heading to Paris to find Yorick's fiancee, Beth. 355 says her goodbyes to Yorick and leaves him at the Arch de Triomphe, seconds before Beth shows up at long last. Yorick and Beth reconnect, but Yorick realizes at last that there is another he loves, who has walked beside him these past four years. He finds 355 and they talk of many things, and themselves, but Yorick faces a final loss and must fight Alter, who has finally found him. The last half of the book is an epilogue that jumps around, but mainly recapitulates the next 60 years. The epilogue took a re-read or so to process, but it is moving, original, and an apt finish to what has been a very rewarding serial graphic novel.
Review by -Eva-
16/06/2015
This last installment in the series wraps up the various storylines, we may or may not find out where the plague came from (or do we already know?), and we find out how Yorick does in the years following the plague and how the world goes on it its aftermath. I was a bit wary of this since I have read something else by the author that I didn't care for at all, but with recommendations coming at me from all directions, I thought I should at least give one a try and I wasn't disappointed at all. There is, of course, a multitude of things to be said about an all-women society depicted by a male author, but I'm going to leave that to those more interested in gender issues than me. The dystopian angle is what I really liked, particularly the issues of day-to-day living. There are a couple of things that irked me slightly, but it's absolutely a series that's worth reading. The "Deluxe" versions of these books include two of the collected volumes as well as the script for one of the issues.