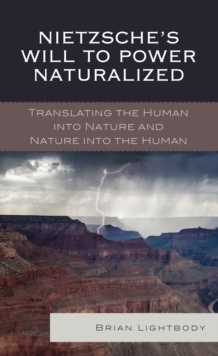 Nietzsche's Will to Power Naturalized : Translating the Human into Nature and Nature into the Human
Hardback
Description
"The world viewed from the inside, the world defined and determined according to its "intelligible character"--it would be "will to power" and nothing else." Cryptic passages like this one from section 36 of Beyond Good and Evil have been the source of much intrigue, speculation, and puzzlement in the Nietzschean secondary literature.
This passage in particular along with many others, have sparked a slew of questions in recent decades such as: "What is the will to power? "Is will to power a metaphysical principle?" "Is it an empirical assertion?" "Or, is will to power merely a hypothesis that Nietzsche himself rejected?" Although asked ad nausea in the literature, the multitude of answers given to the above questions never seem to satisfy. In this book, Brian Lightbody shed light on Nietzsche's most famous "esoteric" teaching by explaining what the will to power is and what it denotes. He then demonstrates how will to power may be naturalized in an attempt to show that the doctrine is epistemically and empirically defensible.
Finally, he uses will to power as a philological key of sorts to unlock Nietzsche's philosophy as a whole by showing that his ontology, epistemology, and ethics are only properly understood once a coherent naturalized rendering of will to power is produced.
Free Home Delivery
on all orders
Pick up orders
from local bookshops