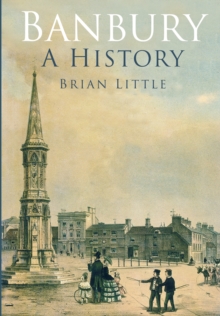 Banbury: A History
Paperback / softback
Description
Banbury was laid out as a planned new town in the 12th century by Alexander, Bishop of Lincoln.
It incorporated a market place and was protected by the second in a series of castles.
His grant of a charter launched the town as a regional trading centre especially noted for livestock - in which respect it remained unchallenged until the dramatic closure of `the Stockyard of Europe' in 1998.
Between those two events Banbury boasts a busy and eventful history.
The author draws on earlier accounts, such as Beesley and Potts, but more so on his own extensive research into unpublished records, and the archaeological investigations, in this up-to-date and detailed exploration of the town's entire past. The Cross, for which Banbury is best known, was destroyed by Puritans in the 17th century and only restored by the Victorians.
The same zealous spirit led the incumbent William Whateley, the `Roaring Boy of Banbury', to attribute the terrible fire of 1628 to God's displeasure!
Civil War sieges of the castle led to its demolition and the depopulation of much of the town, which owed its recovery to its central position in a network of new turnpike roads at the end of the 18th century when it was associated with Frederick, Lord North, elected as its MP on no fewer than thirteen occasions.
The impact of the Oxford Canal, followed by the arrival of the railway, speeded its transition from an agricultural to an industrial economy, making proper local government necessary for its growing population.
Still firmly at the centre of the modern road network, Banbury's expansion since the doldrums of the late 1930s has been remarkable. Accompanied by numerous well-captioned illustrations, the author's compelling narrative explores this fascinating past in fine detail.
In the light of Banbury's unique history and special identity, he considers the relevance of the past to the present and to the future of the town.
This new analysis is sure to be the standard work on Banbury until well into the 21st century.
Information
Format:Paperback / softback
Pages:144 pages, 160 Illustrations, black and white
Publisher:The History Press Ltd
Publication Date:01/08/2017
Category:
ISBN:9780750983679
Other Formats
EPUB from £7.99
Hardback from £12.25