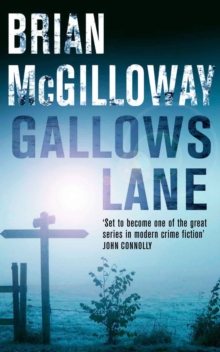 Description
Taking its title from the name of the road down which condemned Donegal criminals were once led, Gallows Lane follows Inspector Benedict Devlin as he investigates a series of gruesome murders in and around the Irish borderlands.
When a young woman is found beaten to death on a building site, in what appears to be a sexually-motivated killing, Devlin's enquiries soon point to a local body-builder and steroid addict.
But days later, born-again ex-con James Kerr is found nailed to a tree -- crucified -- having been released from prison and returned to his hometown to spread the word of God.
Increasingly torn between his young family and his job, Devlin is determined to apprehend those responsible for the murders be-fore they strike again, even as the carnage begins to jeopardise those he cares about most.
Gallows Lane is the heart-stopping follow-up to Brian McGilloway's acclaimed debut Borderlands. 'Brian McGilloway joins the roll-call of excellence in Irish crime fiction' Marcel Berlins, The Times 'A satisfying mystery with an attractive central character' Sunday Telegraph 'Another masterly thriller' Irish News
Information
Format: Paperback
Pages: 304 pages
Publisher: Pan Macmillan
Publication Date: 03/04/2009
Category: Crime & mystery
ISBN: 9780230707696
Free Home Delivery
on all orders
Pick up orders
from local bookshops
Reviews
Showing 1 - 3 of 3 reviews.
Review by johnbsheridan
16/06/2015
second book in series by Brian McGilloway featuring Garda Inspector Benedict Devlin stationed on the border of the Republic of Ireland and Northern Ireland. you might expect given the location that paramilitaries may feature and they do but mainly in the past tense as they have now become respectable (?) businessmen. Devlin is different to most crime fiction detectives as he's happily married with children but as what appears to be relatively straight forward case degenerates quickly to cover assault, murder and crucifixion which does not nothing to help his promotion chances or to alleviate the panic attacks he's been suffering following threats to his family. A decent character in a difficult situation and certainly enough to maintain interest in the next instalment.
Review by Eyejaybee
16/06/2015
A very well written and tightly plotted novel set in the borderland area between Northern Ireland and the Irish Republic, with investigations led by Garda officer Benedict Devlin.Devlin is an unusual protagonist for a series of police procedurals - he is simply too normal! No quirky tastes for Wagner or fine claret, no drink problem, no broken family! Eyt he is immensely plausible despite all that!As with the first novel in this series, the murders come fairly fast and furiously, each with its own particular grimness, though the violence does not seem gratuitous, and Devlin's normality permits him to be as appalled as the relatives of the victims. Similarly, Devlin is not above personal fear, and succumbs to debilitating panic attacks when his own family is threatened.All in all a marvellous successor to "Borderlands" and I look forward to reading the next instalment in this admirable series.
Review by moonshineandrosefire
16/06/2015
It's summertime in the Irish borderlands, and the Donegal summer dawns surprisingly hot for Garda Inspector Benedict Devlin. Inspector Devlin returns to the border separating Donegal from the North of Ireland, waiting for a notorious ex-con named James Kerr to return home on early release. He claims to have found God while in prison, but Superintendent Costello - the superintendent of police, isn't taking any chances with the born-again Christian's fount of newfound grace. Inspector Devlin's orders are to escort him to the northern side of the border and make absolutely certain that he stays out of the superintendent's jurisdiction.When a young woman is found beaten to death at a building site in what appears to be a sexually-motivated killing, Benedict is distracted from his assignment of keeping tabs on James Kerr. Inspector Devlin's investigation into the murder soon leads him to a local bodybuilder and steroid addict. But as the body count increases, with each murder more gruesome than the last, the born-again ex-convict is found nailed to a tree - crucified.Increasingly torn between his young family and the rigors of his job, Benedict is determined to apprehend the killer - or killers - before they strike again, even as the carnage begins to jeopardize those he cares about most. Taking its title from the name of the road down which condemned Donegal criminals were once led, Gallows Lane is a virtuoso piece of writing from crime fiction's most exciting new talent. It is a sharp, modern thriller, a stunning second installment in Brian McGilloway's Inspector Benedict Devlin Series; and a heart-stopping follow-up to his acclaimed debut Borderlands.I really enjoyed reading this book; I immediately liked the character of Inspector Benedict Devlin, he seemed like such a nice person. I also enjoyed the various mentions of the towns in Ireland, it really brought back some wonderful memories for me. If I had one issue with Mr. McGilloway's story, it would be that there were so many characters involved, that I had just the slightest trouble keeping all their names straight in my mind. However, that might be because of my own personal reading concentration. Overall, I would give this book an A!