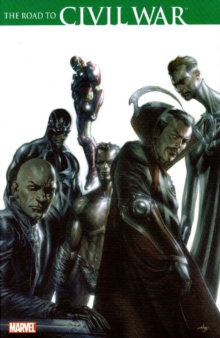 Civil War: The Road To Civil War
Paperback
Information
Format: Paperback
Pages: 160 pages, 1 Illustrations, unspecified
Publisher: Marvel Comics
Publication Date: 21/02/2007
Category: Superheroes
ISBN: 9780785119746
Free Home Delivery
on all orders
Pick up orders
from local bookshops
Reviews
Showing 1 - 3 of 3 reviews.
Review by schatzi
16/06/2015
This trade has three separate stories: a one-shot featuring the Illuminati (Black Bolt, Charles Xavier, Doctor Strange, Iron Man, and Reed Richards) being hosted by the Black Panther, a two-issue arc featuring the Fantastic Four and Doctor Doom (and Thor's hammer), and a three-issue arc featuring Spider-Man and Tony Stark.The issue featuring the Illumanti was by far my favorite. Namor's characterization was spot-on, and I was cracking up with some of the things he did and said (the best part was Namor punching Tony through the roof). The art was a little strange at first, but it ended up growing on me; it kind of reminded me of an older style. Not surprisingly, the Illumanti group splinters apart, although there's little debate over the merits of the Registration Act (everyone either agrees with it automatically or disagrees with it). The issue tries to garner a little sympathy for Tony Stark, but I am not buying it, especially considering his lofty ideas of his own importance later in this trade.Honestly, I'm not sure why the Fantastic Four arc was even included in this trade collection. True, the first couple of pages were lifted from the Illumanti special, but other than that, the Fantastic Four were more concerned about beating Doctor Doom's robots than the upcoming Registration Act. I've never been interested in the Fantastic Four, although they have some great villains (Doom being one of them).The Amazing Spider-Man issues weren't great either. Maybe it's because I already know how Civil War "ends," but I just kept rolling my eyes at Tony's naivete and his exaggerated sense of self-importance (I've never cared much for the character of Iron Man, to be honest). The arc is mostly set in Washington DC, and of course there is the I-hope-they-don't-go-there-but-I'm-totally-expecting-it "Tony Stark is just like Abraham Lincoln" comparison several times (uh, no, I don't think so). I don't see Abraham Lincoln hiring a "bad guy" to assassinate him to sway people to his side. Just saying.Altogether, this book wasn't very good. The only reason I'm rating it three stars is because the New Avengers: Illuminati special was very good. The rest of the material is a solid two stars.
Review by jshillingford
16/06/2015
While working my way through the Marvel events, I found that each usually has some kind of prelude, or road to set-up book that collects some issues to help orient the reader to what's coming. They set the stage. Of the few I've read so far, this is the best set-up collection I've seen, especially for newbies who don't follow the individual series.I'm familiar with the basic premise of the Civil War event, but am just now starting to read the graphic novel collections. The most important aspect of this book is the Illuminati one shot. The greatest superhero geniuses (with one glaring omission, but he has anger management issues) have gathered and decided that they will meet in secret to try and determine a course of action should future Earth-level disasters emerge – the idea is to use their collective brilliance to help prevent events such as the Kree-Skrull war from devastating Earth. Only Black Panther is wise enough to see that this group has no right to set itself as Earth's Protectors, and warns of what would happen should they disagree on a course of action. This bears out when Iron Man, after learning about the proposed Superhero Registration Act, envisions with perfect clarity just how "Civil War" would unfold. He literally prophesies what is to come, and so believes the group should embrace the Act. Black Panther's warning becomes reality when Dr. Strange declares that they would be giving in to fear and ignorance and many of their peers would fight to the death to protect their rights. The group is at odds and the stage set. (An interesting side note is the Professor X has not been seen since the House of M failed).After the one shot, a brief story wherein Dr. Doom tries to claim Mjolnir in the wake of the Asgardians' final deaths in Ragnarok follows. I'm sure the hammer will play a role in the coming story arc, despite Thor's absence. The rest of the collection is devoted to Tony Stark grooming Peter Parker as a protégé, giving him new armor and taking him to Congressional meetings where he tries to "dissuade" them from passing the Act. Only, is that really his agenda?Overall, this was an excellent collection of issues that does set the stage for Civil War. Highly recommended.
Review by JonathanCrites
27/08/2015
The Bendis Avengers read through rolls along, this is the first appearance of the Illuminati and I dig it.