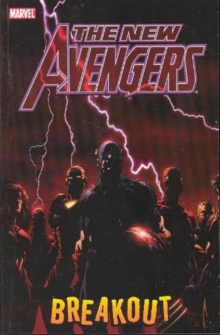 New Avengers Vol.1: Breakout
Paperback
Information
Format: Paperback
Pages: 160 pages, 1 Illustrations, unspecified
Publisher: Marvel Comics
Publication Date: 18/01/2005
Category: Superheroes
ISBN: 9780785114796
Free Home Delivery
on all orders
Pick up orders
from local bookshops
Reviews
Showing 1 - 3 of 3 reviews.
Review by MeriJenBen
16/06/2015
Following the dissolution of the Avengers, a jail break on "The Raft" -- an ultra-high security facility for dangerous super-criminals -- leads to Luke Cage, Spider-Man, Spider-Woman, Iron Man, Captain America and Wolverine forming the New Avengers. Shield Agent Jessica Drew (alias Spider-Woman) leads Matt Murdock (recently outed as Daredevil) and his partner, Foggy Nelson into the Raft, a prison for the super-powered. They are accompanied by Luke Cage, hero-for-hire. The purpose of their visit is to talk to one Robert Reynolds, the Sentry, who asked to be locked up, following the death of his wife. While there, another criminal stages a jailbreak, releasing 87 super-criminals. Drew, Murdock and Cage do their best to contain the outbreak, while Nelson convinces Reynolds to assist. Capt. America, Iron-man and Spider-man soon arrive, and together, the team captures 42 of the released criminals. Capt. America sees the assemblage of heroes on the Raft as a signal that the Avengers need to be reinvigorated, and the heroes agree, for various reasons. Only Matt Murdock declines the offer, and Jessica Drew seems to be funneling information to some unknown party. The team works out of Stark Tower, and soon travels to the Savage Land to apprehend one of the escaped criminals. There they meet with Wolverine, who was also tracking the criminal. While in the Savage Land, the team makes startling discoveries. I liked this book more than I thought I would. Although Bendis has a tendency to throw the most popular heroes together at any given time, for any reason (see Secret War; House of M;) the set-up here feels more organic than some superhero team ups. Also, Luke Cage and Jessica Drew throw a little bit of mystery into the mix, as I am not that familiar with those characters. Things move pretty fast in this title, most likely because Bendis knows the core readership for this series are 1) already familiar with the players and 2) not really in it for character development. The artwork looks very "Marvel" and in the first section of the book, the prison setting and 87 villains make for a dark and cluttered page. Things improve after that, although the Savage Land looks like a Roger Corman movie, but I doubt that's Finch's fault. Overall, a sold beginning to an interesting series.
Review by schatzi
16/06/2015
After being disappointed with Avengers Disassembled, I was a little leery to read about the "replacement" Avengers. However, the story was pretty good, and Spider-man's quips kept it entertaining. I'm interested to see where this is going.
Review by MeganAngela
16/06/2015
I'll admit, while I love comic books, I haven't read a huge amount of these collected anthologies. With that being said, this has probably been my favorite one to date! Taking place after the end of the Avengers and before the events chronicled in House of M, a dire situation at Ryker's Island has brought together an unlikely group of heroes to continue on as the New Avengers. Breakout stars Iron Man, Captain America, Spider-Woman, Spider-Man and Luke Cage as the New Avengers and the fight takes them from Ryker's Island to Savage Land in search of who or what is behind a mysterious jailbreak of many dangerous super-villains!This is a very short read due to its fast pace. Expect to finish this one in an hour or two. There are also many thrills and mysteries to be had! Who has their hand in a shady offshoot of S.H.I.E.L.D.? Just exactly what side is Spider-Woman on and who is her mysterious second source of information? Why are there super-villains still alive whose files indicate that they are most certainly dead? What is the real meaning behind the release of Sauron? And will Matt Murdoch ever come around and agree to be part of the new Avengers team? So many of these questions are posed in this anthology and I can't wait to pick up the next volume to find out what happens next!Well-written and beautifully, though rather darkly, illustrated, I found this to be a superb anthology with the beginnings of a great story arc. Plus, looks like the writers decided to make a team full of jokesters galore with the sheer amount of comic quips to be found within. It definitely makes for a fast, funny and interesting read! I'd absolutely recommend New Avengers: Breakout to seasoned comic fans and those new to the universe alike!