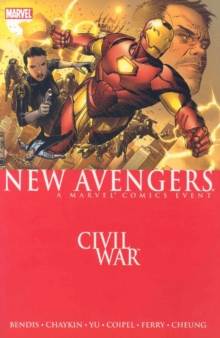 New Avengers Vol.5: Civil War
Paperback
Information
Format: Paperback
Pages: 120 pages, 1 Illustrations, unspecified
Publisher: Marvel Comics
Publication Date: 01/08/2007
Category: Superheroes
ISBN: 9780785124467
Free Home Delivery
on all orders
Pick up orders
from local bookshops
Reviews
Showing 1 - 3 of 3 reviews.
Review by MeditationesMartini
16/06/2015
Pretty well-conceived, and does more than any of the other books to fill out the main "Civil War," which is essentially a Cole's Notes. Does a fair bit to humanize Stark in the context of the struggle, make him more than the villain, althouhg looking back the rehabilitation of Iron Man that nobody thought was possible kind of came after "Civil War" ended instead of during, showing that comic book writers just need someone to play bad guy. Wish they'd done more to complicate the issue with Cap, though. Like, he gets all military and demands Daredevil and Falcon run this mission and it all goes to shit and they have to deal with the regular folk shoving their violence all up in their face so it isn't just crammed in there at the end of the main series? And Cap doesn't even give a shit even though he's hemorrhaging troops? What "Civil War" really should have been was Machiavelli v. Napoleon.And PS: OH, Bendis is a frustrating writer. Like, that scene with Hank Pym was genius, until you realized it didn't make any sense at all. And Maria Hill watching "A Few Good Men" in the middle of the war? He's trying to make them regular people, which is fine, but sometimes, some ways, they just aren't.
Review by schatzi
16/06/2015
I liked this collection better than some of the previous ones in this series. Each issue collected centers around one player in the Civil War struggle: Captain America, Luke Cage, Spider-Woman, the Sentry, and Iron Man. There's also a different artist for each issue, which is a little frustrating when reading the book straight through. I thought that the issues were, for the most part, a nice addition to the Civil War storyline. Bendis does a pretty good job at fleshing them out here, as well as their motivations for which side they ultimately end up picking. I'd never cared much for the character of Luke Cage until this collection, and now I can't wait to read more about him.
Review by lithicbee
16/06/2015
This volume, containing New Avengers 21-25, is somewhat dissatisfying in that it is not one story but five short stories focusing on different players in the Civil War: Captain America, Luke Cage, Jessica Drew, the Sentry, and Iron Man. While these are all New Avengers-related characters, it is part of a continuing trend in comics in which a series is hijacked by other characters or plots, retaining a title but not much else (for another example, the Hulk was taken over by Hercules). In this case, New Avengers becomes a vehicle for some one-shots about the Civil War. Why not just put out some separate one-shots and have a story involving the New Avengers as a team? To me it is a bit confusing and disingenuous. So, this volume is good if you want some background on the Civil War event in Marvel comics. Otherwise, it can probably be skipped.