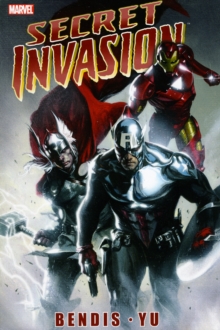 Secret Invasion
Paperback
Information
Format: Paperback
Pages: 248 pages, 1 Illustrations, unspecified
Publisher: Marvel Comics
Publication Date: 21/01/2009
Category: Superheroes
ISBN: 9780785132974
Other Formats
Paperback from £11.35
Hardback from £20.05
Free Home Delivery
on all orders
Pick up orders
from local bookshops
Reviews
Showing 1 - 3 of 3 reviews.
Review by MeditationesMartini
16/06/2015
Oh, who can remember? I read this more than 24 hours ago for Chrissakes. I don't think it fulfilled its potential, and I remember thinking the art was bad and it was especially egregious how they gave away the game with the old heroes in like five mins instead of in next year's crossover event. I liked the "Embrace Change" posters a lot though, and it set the stage for the less promisimg but seemingly more interesting "Dark Reign" event.
Review by annexlad
16/06/2015
I have to agree with a previous reviewer - this story line did not reach it's full potential. After a long set up going back to "New Avengers" #1 this series felt like it had been scripted by a WWE writer. After the early reveals are over the fighting starts. Every issue some new group or high powered individual shows up to throw their/his hat in the ring and the brawl continues. Given all the fighting very little damage is done to the heroes (with one exception). Thousands of Skrulls die, but no one else. The conclusion was a good set up for Dark Reign, but the way it happened was too forced. Unlike others I really liked the art. Yu has been drawing the Avengers for a while (if you've been following the regular series) and while I think Perez is the standard Yu has a contribution to make. For a story that has had so much build up and such large implications this culmination is simply one big brawl that almost doesn't need text.
Review by schatzi
16/06/2015
I think that this really had the potential to be a good story, but like a couple of the previous reviewers stated, this simply didn't live up to the potential. It was a lot of splash and flash with very little suspense or plot development. The art wasn't that good, either. Although not on a Stroman or Liefeld level of badness, Yu's art is pretty horrible, especially when it comes to women, whom he seems incapable of rendering well at all. There were three things that I liked about this trade. 1) The "embrace change" posters were pretty cool. 2) Mockingbird has returned, finally. 3) This sets up Dark Reign fairly nicely, although it felt rather forced, and Dark Reign was much more fun for me to read.If I took the time to list the things that I didn't like, the paragraph would be much larger, especially when it comes to the death at the end. Ugh.