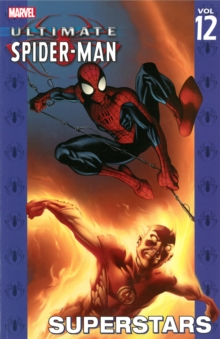 Ultimate Spider-man Vol.12: Superstars
Paperback
Information
Format: Paperback
Pages: 144 pages, 1 Illustrations, unspecified
Publisher: Marvel Comics
Publication Date: 06/04/2005
Category: Superheroes
ISBN: 9780785116295
Free Home Delivery
on all orders
Pick up orders
from local bookshops
Reviews
Showing 1 - 2 of 2 reviews.
Review by schatzi
16/06/2015
There are three separate story arcs in this trade. The first is a funny two-part story about Wolverine and Spider-Man, somehow, waking up one morning and finding that their bodies have been switched. Of course, this leads to trouble and hilarity. I thought that this was probably the best arc in the trade.The second is about Johnny Storm of the Fantastic Four. His sister and father have decided that he needs to finish high school, and since Johnny has been cooped up in the Baxter Building recently, he decides that he wants to go to a real school. Coincidentally, he decides to go to the school where Peter Parker also attends. Things don't go so well for Johnny, but he and Peter team-up for a light adventure.And finally, the more "serious" arc, involves Peter meeting the second Doctor Strange (the first having disappeared twenty years ago). This was probably my least favorite arc in the trade, mainly because it doesn't add anything new to the heaping plate of angst that is being served to Peter on a regular basis.This trade felt a little disjointed, especially after having just read the eleventh trade in the series. At the end of that trade, Peter, in a fit of anger over Gwen's death, decides that he doesn't want to be Spider-Man any longer because he can't trust anyone not to use him and the people around him only end up dying because of his secret identity. But now, in this trade, Peter's back into Spider-Man mode without any explanation or exposition. Only Mary-Jane makes a vague comment that she likes the fact that Peter has resolved to not be Spider-Man as much, and yet Peter spends just as much time in costume as he did in previous trades.
Review by shanaqui
16/06/2015
I liked the friendship here with the Human Torch, but whaaaat is that bit with Wolverine? It's just so silly! It's really making me want to read Ultimate X-men, though. And is there Ultimate Fantastic Four? Must look this up. Maybe now I have a job...The introduction of Dr Strange makes me quite curious. I know Billy Kaplan (Young Avengers) is a runner-up for the next Sorcerer Supreme, so... hmm.