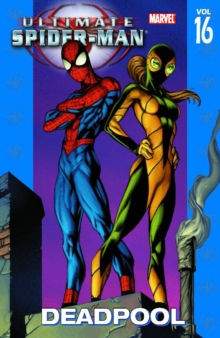 Ultimate Spider-man Vol.16: Deadpool
Paperback
Information
Format: Paperback
Pages: 184 pages, 1 Illustrations, unspecified
Publisher: Marvel Comics
Publication Date: 13/09/2006
Category: Superheroes
ISBN: 9780785119272
Free Home Delivery
on all orders
Pick up orders
from local bookshops
Reviews
Showing 1 - 2 of 2 reviews.
Review by schatzi
16/06/2015
Now that Peter is officially dating Kitty Pryde, Ultimate Spider-Man has finally gotten more interesting for me to read. The X-Men keep popping in, which is fine by me, and Peter doesn't seem like such a snot-nosed kid. There are three separate stories collected in this trade. In the first, Peter is accidentally kidnapped, along with the rest of the X-Men, and dumped onto an island full of enraged psychopath mutant-haters, led by none other than "Wadey Wilson," aka Deadpool. I don't care for the Ultimate-ization of Deadpool here, but whatever, you win some and you lose some, and it's still a good read.The next storyline involves Ultimate Morbius. The reader doesn't learn a lot about him. Instead, we just see that vampires are inexplicably attacking people, including one of Peter's co-workers, and apparently only Morbius can save them. And Peter has nasty tasting blood. Well, at least that spider was good for something besides making Peter emo!The last storyline is found in the annual. Basically, it's a big brawl featuring Daredevil, Moon Knight, the Punisher, and Spider-Man taking on the Kangaroo. Too bad Peter's being fed information by a dirty cop who is in league with the Kingpin and is using them all to take care of Kingpin's enemies. Peter grows up a little.
Review by shanaqui
16/06/2015
The team-up with the X-men here is pretty cool, and I do still enjoy Peter's relationship with Kitty Pryde. It's -- so far -- sweet, and much less emotionally roller-coastery than his relationship with Mary Jane. Of course, that's because he loves Mary Jane, and he doesn't love Kitty, so I don't know how long this is going to last.But yeah, sorry Lisa-love, I like the X-men (the Ultimate X-men, at least) quite a bit. Ororo looks so cool. Looking forward to getting those TPBs...Deadpool, meh, I'm not fussed about him from what I've seen just in this issue.