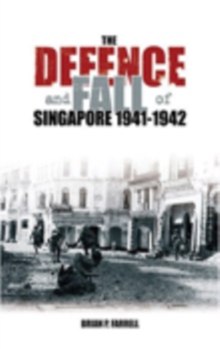 The Defence and Fall of Singapore 1941-1942
Hardback
Description
Shortly after midnight on 8 December 1941, two divisions of crack troops of the Imperial Japanese Army began a seaborne invasion of southern Thailand and northern Malaya.
Their assault developed into a full-blown advance towards Singapore, the main defensive position of the British Empire in the Far East.
The defending British, Indian, Australian and Malayan forces were outmanoeuvred on the ground, overwhelmed in the air and scattered on the sea.
By the end of January 1942, British Empire forces were driven back onto the island of Singapore itself, cut off from further outside help.
When the Japanese stormed the island with an all-out assault, the defenders were quickly pushed back into a corner from which there was no escape.
Singapore's defenders finally capitulated on 15 February, to prevent the wholesale pillage of the city itself.
Their rapid and total defeat was nothing less than military humiliation and political disaster. Based on the most extensive use yet of primary documents in Britain, Japan, Australia and Singapore, Brian Farrell provides the fullest picture of how and why Singapore fell and its real significance to the outcome of the Second World War.
Information
Format: Hardback
Pages: 447 pages
Publisher: The History Press Ltd
Publication Date: 28/02/2005
Category: European history
ISBN: 9780752423111