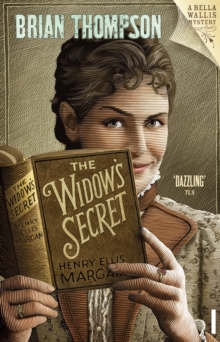 The Widow's Secret : Bella Wallis Mystery
Paperback
Description
Bella Wallis is a respectable society woman with a secret identity: in an office buried deep within the seedy backstreets of London, she writes sensationalist novels exposing the scoundrels that litter high society under the pen name Henry Ellis Margam.
So when a crested cigar case is found near the body of a murdered prostitute, Bella and her friends are determined to trace the murderer and write a mystery that will avenge the poor girl's untimely death.
But the owner of the cigar case is a dangerous - and rich - man who has already destroyed the lives of others who have crossed him.
Will Bella see justice done, or will she meet the same fate as so many of her characters...?
The Widow's Secret is the first in the Bella Wallis series of mysteries and takes us from London to Paris, from the highest of society to the lowest of the low.
It is an entertaining, effervescent romp and a wonderful introduction to this most charismatic of heroines.
Information
Format: Paperback
Pages: 288 pages
Publisher: Vintage Publishing
Publication Date: 04/06/2009
ISBN: 9780099539483
Free Home Delivery
on all orders
Pick up orders
from local bookshops
Reviews
Showing 1 - 2 of 2 reviews.
Review by devenish
16/06/2015
Interestingly,for me,although there is one completely evil character in this book,the rest (even those on the side of the angels as it were) are shaded in grey rather than in pure white.The protagonist,who lives in Victorian London,is a seemingly respectable widow, Bella Wallis who writes blood & thunder novels under the name of Henry Ellis Margam. Together with a group of somewhat unconventional friends,she decides to investigate when the body of a prostitute is found with her throat slashed. The murderer and his accomplices are soon discovered but are difficult to bring to justice due to their status. There are several quite violent episodes and this violence comes from both sides,which as I say makes the story a more interesting one than is usual with this type of book.I congratulate the author of this unique beginning to this series and I look forward to the next one with keen anticipation.
Review by wyvernfriend
16/06/2015
Bella Wallis writes books under a male pseudononym that expose some of the scoundrels of high-society. When a crested cigar-case is found near the body of a murdered prostitute she investigates with the help of her friends. This gets her into a lot of trouble and provides her with a lot of material for her next books.It's not a bad read but it was overshadowed by the Braun & Books story that I read soon afterwards. There were moments when the research showed and often I was quite confused as to the location of the happenings or the era, things seemed to be very piecemeal.It's not a bad read and I would be interested in reading more to see how she develops as a character but she just didn't come to life for me enough to make me want the sequel immediately.