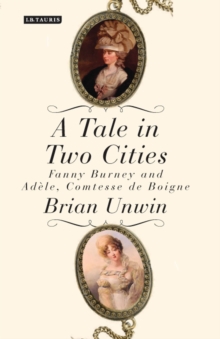 A Tale in Two Cities : Fanny Burney and Adele, Comtesse de Boigne
Hardback
Description
Fanny Burney and Adele, Comtesse de Boigne, were two of the most remarkable female writers of the late eighteenth and early nineteenth centuries: one a famous novelist, the other an aristocrat from one of France's most ancient families.
This was the tumultuous era which saw the French Revolution, the Napoleonic years and the July 1830 Revolution in France; and in England the 'madness' of George III and the extravagant Regency period. Fanny and Adele were similarly strong characters - both were fiercely intelligent and closely engaged with the social and political issues of the day - but came from remarkably different backgrounds.
Whilst Adele was born into the French aristocracy - and was raised at Versailles - Fanny came from a rather less auspicious, but highly cultured, family and made her name as one of the best-selling novelists of the day. Both women used memoirs, journals and diaries to document their lives in the upper echelons of society in England and France, commenting with scintillating wit and waspish observation on their encounters with many of the great figures of the day - including such as Napoleon, Wellington, Talleyrand, Castlereagh, Chateaubriand, Dr Johnson, David Garrick, Madame de Stael and both the French and British Royal families.
Although the two women lived for significant periods in each other's country (mainly in Paris and in London) and inhabited the same social circles, surprisingly they never met in person.
Yet they both encountered the same people and commented on the same events.
Through the observations of these immensely well-connected and brilliant writers, Brian Unwin provides a fresh and fascinating insight into some of the principal events and persons of one of the most seminal and turbulent periods of modern European history.
Information
Format: Hardback
Pages: 288 pages, 46 b/w and colour in 16pp plates
Publisher: I.B. Tauris & Co. Ltd.
Publication Date: 30/01/2014
Category: European history
ISBN: 9781780767840
Free Home Delivery
on all orders
Pick up orders
from local bookshops